At Mulberry, we believe customers should be able to use their purchases without fear of damage or expensive repairs. Our Mulberry browser extension product protection offers major savings for shoppers who want to protect their purchases for anything from computers to ebikes to couches.
Why Use the Mulberry Browser Extension
We developed the Mulberry browser extension to answer two of the biggest warranty concerns shoppers have: warranties that don't cover enough and that cost too much.
We're pretty excited to offer the Mulberry browser extension, and we love it when our customers are excited too.
If you're not already spreading the word, here are 5 reasons to start now:
1. Tell a friend, and you can win $1000
During the month of October, we're offering shoppers the chance to win big in our friend referral giveaway. For each friend that downloads the free Mulberry extension, you'll get an additional entry towards being 1 of 5 shoppers to win $1000.
Want to start getting entered to win? Download the browser extension plugin and get your first free plan to set up a dashboard login. Once you log in to your dashboard, you can get a unique referral URL to send out to your friends and family to credit the referral to you. It's free for you to get a plan and free for them to download.
Terms apply, so see the official rules and referral program terms for details.
2. Free 12-month protection plans, no strings attached
With the Mulberry browser extension, online shoppers can get a free 12-month protection plan on any eligible product. Once you download the extension, you'll see our extension come up when you're on a site that has products we cover.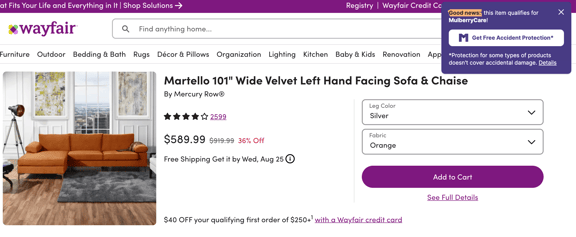 How free is free? When you sign up for a free 12-month plan, your coverage comes 100% free. There are zero hidden fees or deductibles. After 12 months, your coverage just ends—you don't have to worry about being automatically subscribed or charged later on.
3. Longer-term plans at the lowest prices, guaranteed
When you get a free 12-month plan, you will also have the option to purchase a longer-term plan. These can go from 24 months to more depending on the product. These longer plans offer the same great coverage as our 12-month plans for the lowest industry prices. You can see a full list of term length options available for your product when you add a free 12-month plan.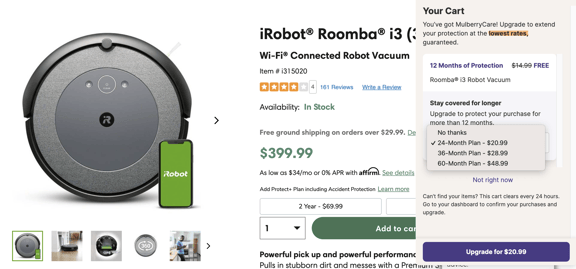 Manufacturer warranties are usually limited to product defects and malfunctions. Protection plans go beyond your warranty coverage to also cover other damages and repairs that come from using your products. Our protection plan coverage starts on day 1, so you're getting additional protection right away.
4. We cover whatever you shop for, wherever you shop for it
Mulberry plans cover a wide range of products, including appliances, furniture, electronics, bikes, jewelry, watches, fitness equipment and more. The Mulberry extension will show you if a product you look at is eligible for protection. For a full list of covered categories, and details on what types of coverage apply to your products, check out the about MulberryCare page for more information.
Our Mulberry browser extension isn't limited to just a few sites. It is available wherever you shop online, from Walmart or Best Buy to your local online store.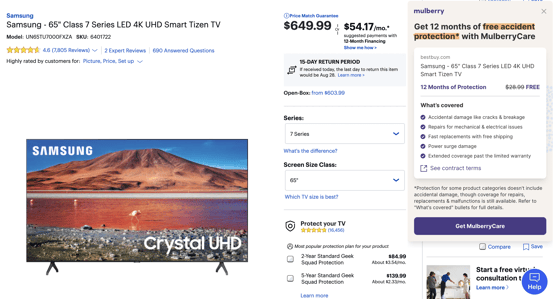 That means you can get protection plans on the things you want covered, even if the site doesn't offer coverage options. You can also choose to get our low-cost plans instead of those offered on your purchase sites. See how much you can save by getting a Mulberry plan.
5. We don't have "gotchas"
Mulberry believes in customers first. We're online shoppers too, and so we offer the type of customer care we want to have. Our product protection is always clear—you know what you're getting and what it costs.
That's why we don't believe in hidden fees—we don't make you pay to redeem a claim, or sign you up for hidden charges or subscriptions later on. We'll show you a list of what is covered on your product so you know what's included before you decide to select a plan.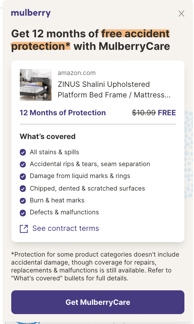 And our customer service team is always available, so contact Mulberry with any questions you have along the way.
Mulberry Browser Extension: Worth the Hype?
We sure think so. But don't take our word for it. Go download the Mulberry extension and tell us yourself! We love hearing from customers and knowing what we can do to make the shopping experience exceptional.
If you're a Mulberry fan, make sure to tell your friends throughout the month of October so you can get entered into the $1000 friend referral giveaway.
Here's some additional info about our refer-a-friend giveaway: No purchase necessary. Odds depend on the number of entries, max 25 entries per person. Open until October 31, 2021. Must be 18+ and reside in the 50 US states or DC. See official rules and referral program terms for details.