Getting started with Mulberry is so easy, it's almost effortless.
Our completely streamlined process allows us to integrate extended warranties onto e-commerce platforms in a matter of minutes, not days, creating a whole new experience for retailers.
At a quick glance, here is how retailers can get started with Mulberry today:
Step 2: Install Mulberry's plugin onto your e-commerce platform
Step 3: Fire up your tailor-made marketing strategy
Step 4: Launch!
It's that easy!
If you're interested in a more in-depth overview of how retailers can get started with Mulberry and really take advantage of the program, see below.
Step 1: Connect with a representative from our Mulberry Success Team
Now that you've connected with your Mulberry Success Manager, your rep will walk you through how Mulberry can help you drive more revenue while delighting customers.
During this conversation, we allow you to choose the direction of the conversation. If you're already sold on Mulberry and just want to get started, we'll skip right to getting you setup. However, if you'd like to get a deeper sense of the solution, we're always happy to oblige.
At Mulberry, we put you first. We make it our mission to know and understand your goals. From there, we can customize the conversation to cater to your needs and wants.
Here are some key points of what Mulberry has to offer:
Retailers who offer Mulberry protection plans receive a percentage of all warranties sold on their website.
With a methodical plan in place, created by our Mulberry marketing experts, retailers can expect to see a growing loyalty within their customer base. Retailers may experience higher returning visits and higher conversion rates, as customers find more comfort in knowing that their products are protected.
To maximize conversion rate and revenue for your program, Mulberry's team of data scientists are always working behind the scenes to determine the best product placement, pricing, and messaging.
Step 2: Install Mulberry plugin onto platform
Now it's time to get the Mulberry plugin installed onto your platform. Mulberry is currently compatible with Shopify, Magento, and WooCommerce, allowing us to launch onto your online store in a matter of minutes.
If you're hosted on another platform, no worries, we can still get you setup in no time!
And if you need help with the installation, we have a dedicated tech team ready and willing to help.
Step 3: Fire up your tailor-made marketing strategy
As part of the onboarding process, we deliver a customized marketing strategy to you. In our strategy, you'll find that we have addressed and determined the most crucial aspects of your campaign, which include:
The best product placement on your e-commerce website.
Our goal is to seamlessly integrate Mulberry into your shopping experience. . With that, Mulberry determines the best placement and positioning for your website.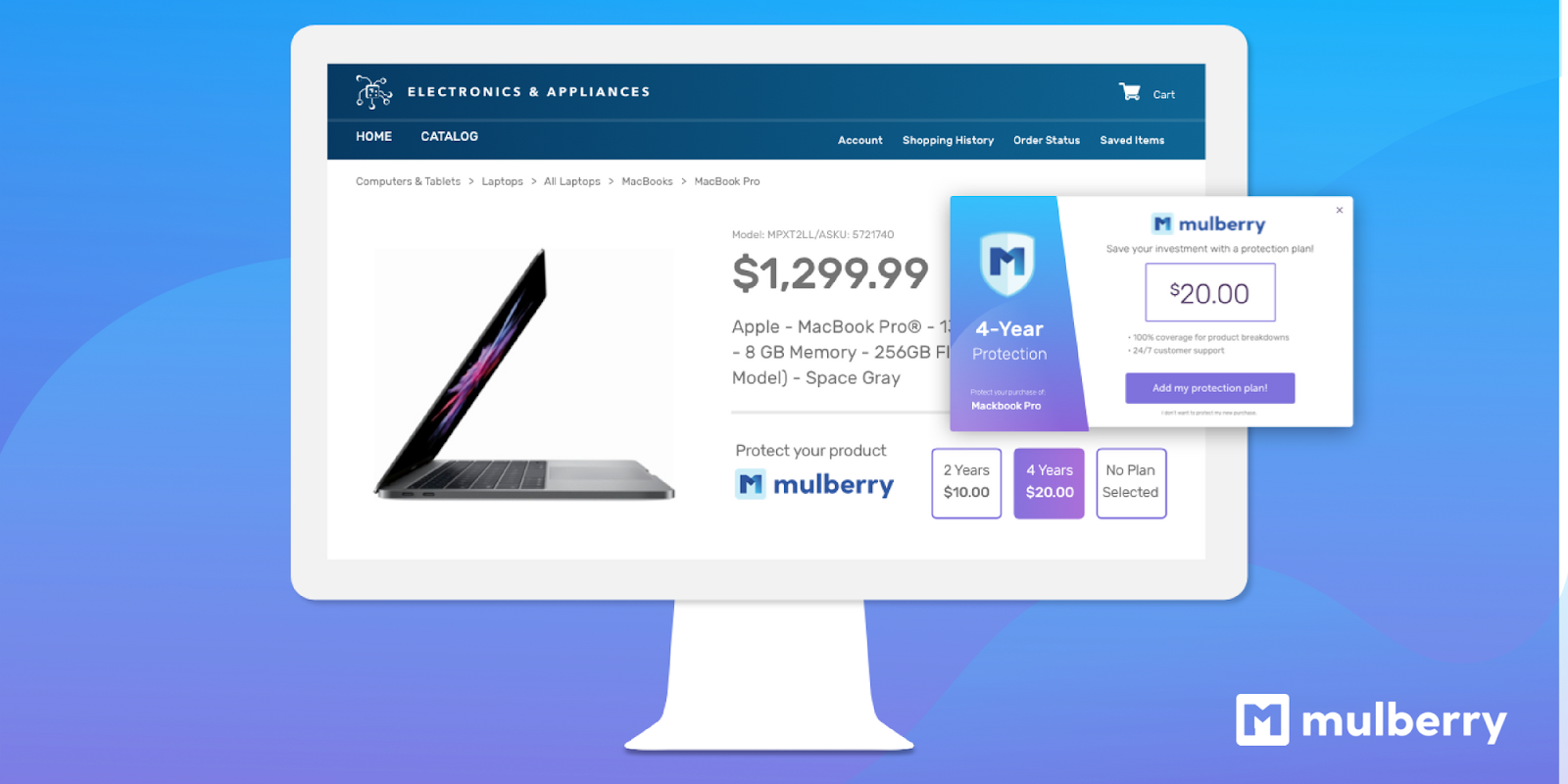 The most appropriate pricing, based on the products you sell.
Every product is different, therefore, Mulberry tailors pricing to each product. We want your customers to feel enticed and motivated to make the purchase.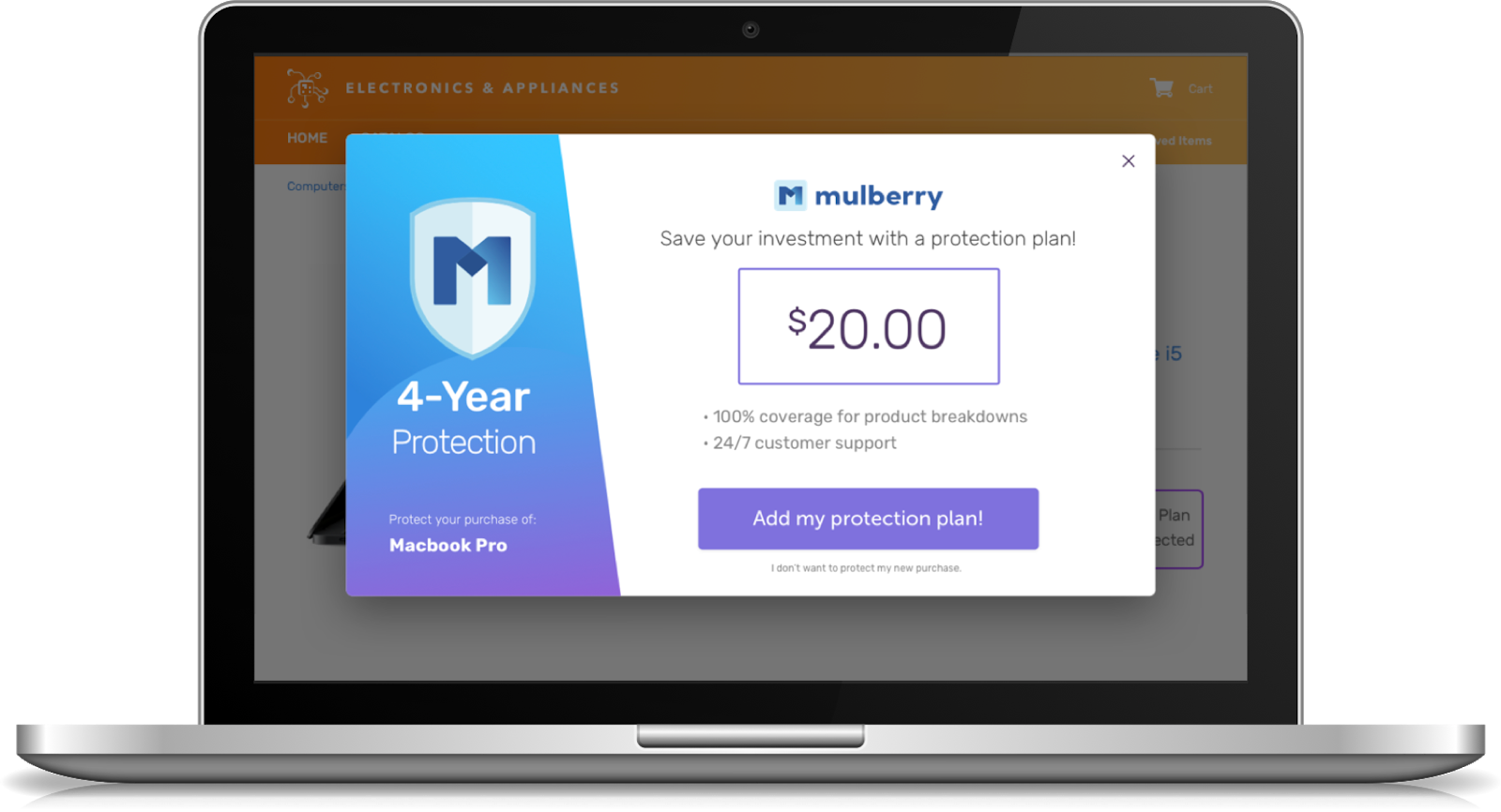 The type of messaging that will get your customers intrigued, engaged and purchasing.
Our messaging creates:
A unique customer experience.
An understanding of why Mulberry protection plans are beneficial.

Step 4: Launch!
It's officially time to launch! Now your customers can have the benefit of knowing that their purchase can be protected.
Customers can decide on the length of their coverage as well as what products they want to protect, if they have multiple products in their shopping cart.
Mulberry has created a way to offer product protection without the friction, creating an all-new experience for both the retailer and customer.
Are you ready to transform your e-commerce business?
If you're interested in offering Mulberry to your customers, let's get connected! Send us an email at sales@getmulberry.com or click here to get started.
---