What types of damages do we protect against?
What products are not eligible for unlimited coverage?
How it Works
Shop with confidence
Browse 5,000+ online retailers like Amazon, Best Buy, Wayfair, Walmart, etc. When you're ready to check out, have peace of mind knowing your purchases are protected under your Mulberry Unlimited plan.
Protect unlimited items
Mulberry Unlimited covers nearly everything you buy online under one plan. Coverage includes up to $2,500 in damages annually for repairs, replacements, or reimbursements.
You're covered!
Add as many products as you'd like with our easy-to-use dashboard tool — all of your purchases will be covered for as long as you choose when you're a Mulberry Unlimited subscriber.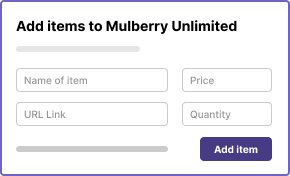 Frequently asked questions
How can I add purchases to my Mulberry Unlimited plan?
When does my Mulberry Unlimited coverage take effect?
What is the coverage limit on my plan?
How do I file claims for items protected under the Unlimited plan?
Do I need my item receipts for coverage? What if I don't have them?
Can I add items that are older or used to my protection plan?
Can I cancel my Mulberry Unlimited plan?