Get
free protection

as you shop online, plus other savings with Mulberry

From MulberryCare protection to instant savings with MulberryPerks — we help you keep more money in your pocket today and in the future.

Add to Chrome - it's free!
Rated ★★★★★ in the Chrome webstore
Join 400,000+ customers

Get it on desktop
Currently, Chrome extensions only work on desktop devices. Get a download link emailed to you for the next time you're on a computer or laptop.
Save with Mulberry when you shop at over 5,000 online retailers
MulberryCare
People-First Protection
Say goodbye to overpriced protection and underwhelming coverage; say hello to MulberryCare. Mulberry offers free or affordable product protection plans so you can shop at your favorite retailers, stress-free.
Get unlimited free 1-year product protection plans
Upgrade to longer term plans at the lowest rates
MulberryPerks
Exclusive Offers
Evaluating financial products like auto and travel insurance isn't exactly fun, we know. With Mulberry as your everyday shopping companion, you can enjoy instant savings on financial products with our perks.
Save up to $922 on auto insurance
Customize coverage & save on travel insurance
New offers added regularly, including home insurance, pet insurance, savings accounts, & more
02
Shop & Save
Shop online at your favorite retailers and we'll handle the rest. We'll give you a friendly nudge if products you browse or add to your cart are eligible for protection, or if we have any available perks.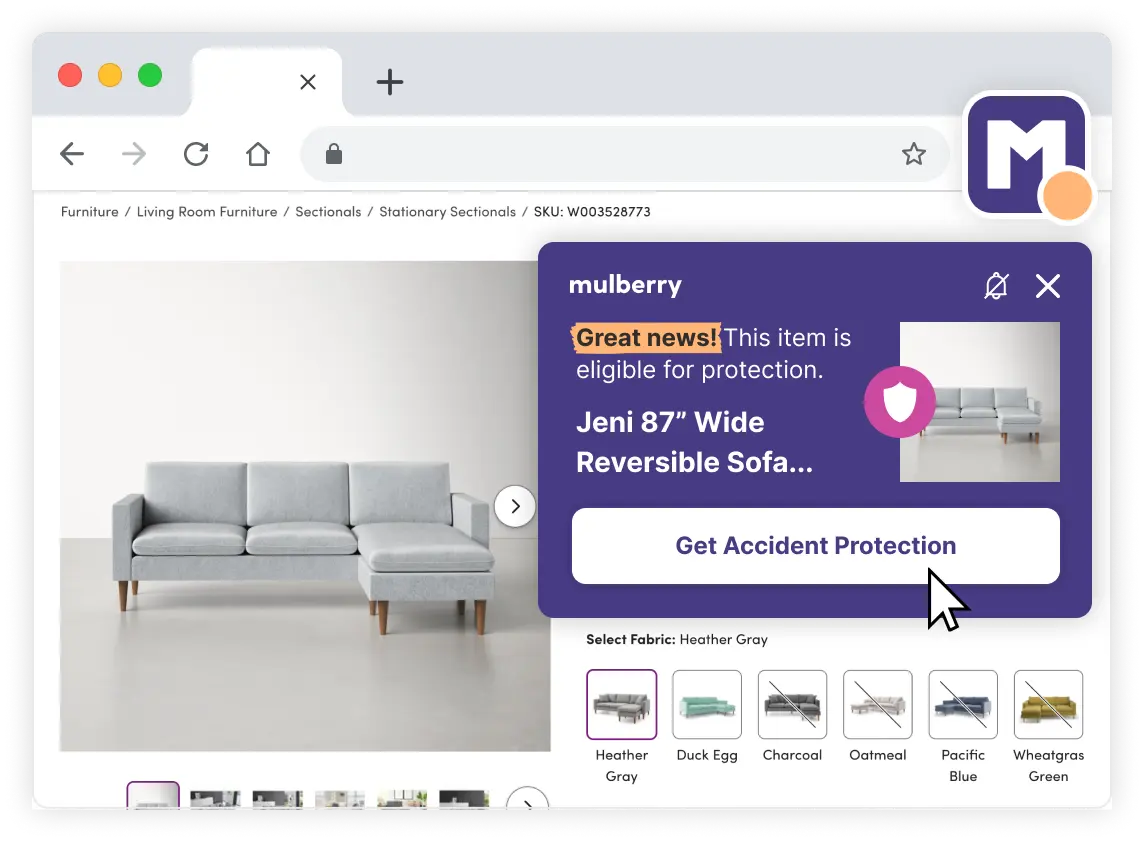 03
Customize Your Coverage
Looking for longer coverage? No problem. Easily upgrade from a free 1-Year MulberryCare plan at the lowest prices on the market.
04
Enjoy More Savings
Browse our suite of MulberryPerks for more ways to save, including deals on car insurance, customizable travel insurance coverage, and more.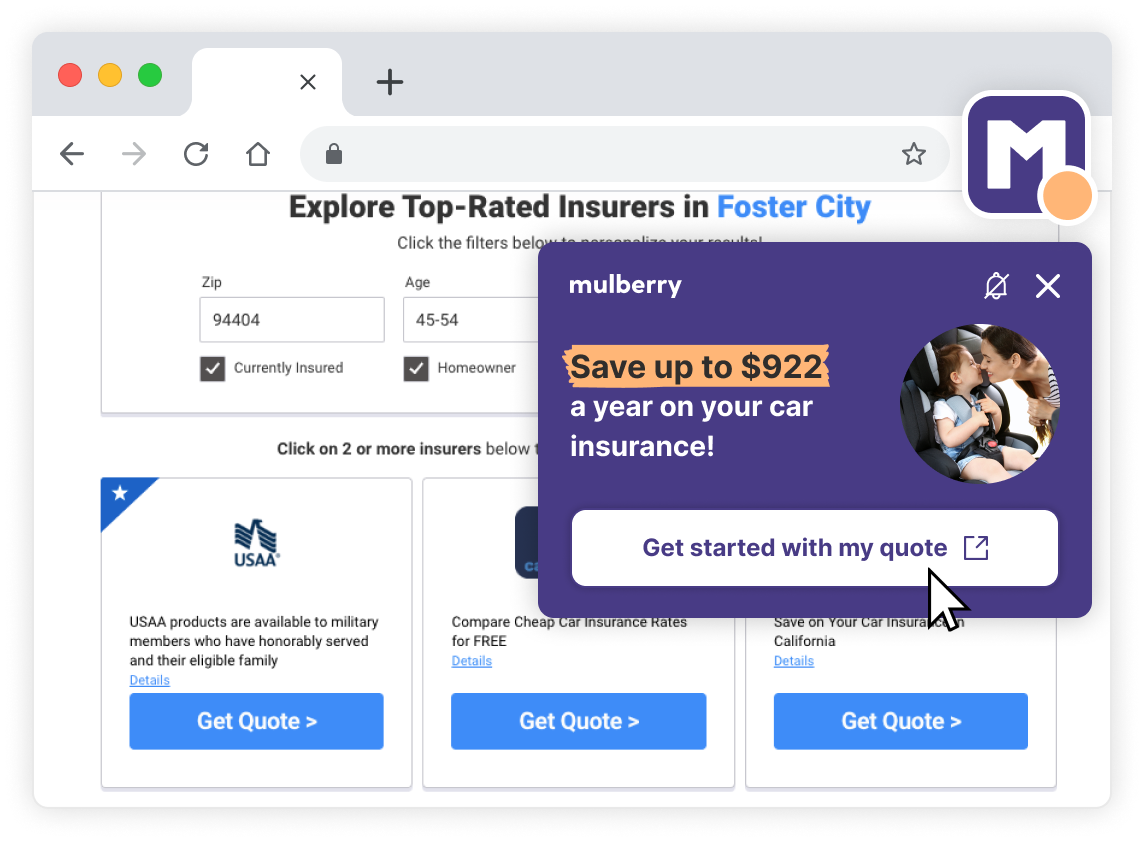 05
Access Your Account
Mulberry's customized customer dashboard helps you manage all aspects of your plans.
Whether you selected a free plan with our Chrome extension or purchased an affordable plan at one of our featured retailers, you've been registered with Mulberry. Simply log in to your personalized dashboard to manage your plans.
Review coverage details
Access 24/7 support representatives
File claims & receive transparent updates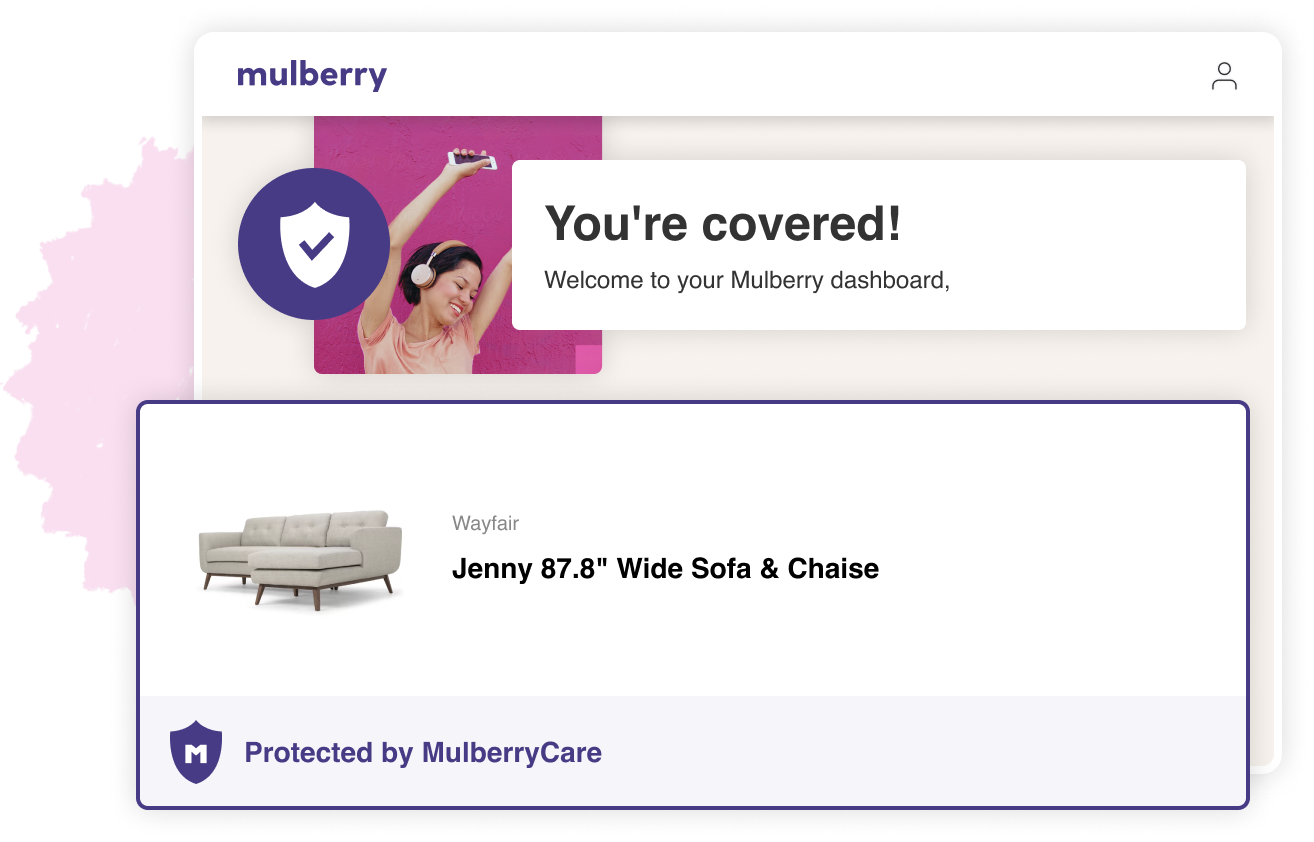 Currently, Chrome extensions only work on desktop devices. Get a download link emailed to you for the next time you're on a computer or laptop.
What real customers say
The team at Mulberry has been absolutely fantastic! I received a new order and accidentally broke it with in minutes of opening it. I reached out to the claims team. Followed their quick and direct questions and directions. My claims was filed and I am just waiting for my new order to arrive. Mulberry was so good I am purchasing some more items and will definitely be adding another protection plan.
Greg P.
Great extension. The process was seamless and I feel so comfortable having protection on my new piece of furniture. You can't beat the price — free for one year. And I even purchased the extended 5 year plan for less than Amazon sells it for. Very happy.
Rae G.
Extraordinary customer service every step of the way. I am grateful for the follow-ups done to be sure I had a good experience from beginning to end. I love your company and the dedication of the customer service team. Thank you and thank you again.
Candace J.
Truly the best customer experience I have ever had. The team was consistently kind, helpful, understanding, and prompt. I only have the best things to say!
Mulberry Customer
We had a very unfortunate incident with a guests dog and our leather couch that was basically brand new. The response for our claim was excellent. They were very easy to work with and when the couch could not be cleaned by the professional they sent out, they did not argue about replacing it at all. Excellent experience. Highly recommend.
K. Moore
Mulberry provided customer service like it should be! An attention to detail and true concern in regards to addressing your concerns. I took photos of my rug and they got back to me right away on how to move forward with my warranty! I am so glad I purchased the extended warranty, because accidents do happen.
Linda H.
I had two products insured with Mulberry that were both made of glass and quartz that broke within days of one another. I was distraught until I got in touch with Mulberry. They quickly accepted my claim with a description and photos of both broken items and issued brand new replacements within days. Couldn't have asked for a better warranty service
Dominick C.
Customer support was extremely prompt, helpful, and professional.
Shawn M.
It was so easy to complete my claim. It took me a few minutes to complete. It was easy to upload the photos. Exactly how consumer service should be. Thank you!
Ashley O.
Getting Mulberry is a no-brainer! Great protection on the things I buy, gives me peace of mind and a seamless experience. 5 stars!
Beth B.