Mulberry Unlimited
The premium product protection subscription for everything you buy online like electronics, jewelry, appliances, furniture, outdoor gear, fitness equipment - you name it, we cover it.
You shop. We'll protect your online purchases, automatically.
Protect unlimited products under one plan. Claim up to $2,500 annually. Zero deductibles. Cancel anytime.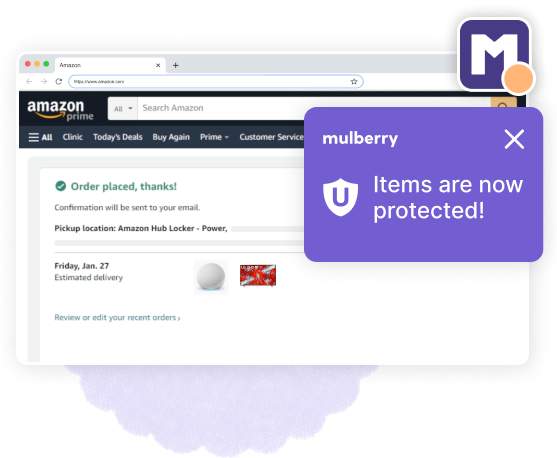 $1.8M paid to customers for approved claims
$460M worth of products covered
⭐⭐⭐⭐⭐ chrome web store reviews
$256 average received per approved claim
Shop with confidence
What if everything you bought online could be covered under one protection plan? Sometimes you don't get exactly what you expected when you shop online - poor quality, damaged upon arrival, missing pieces. And that's before you start using it. With Mulberry Unlimited, your purchases are automatically covered under your subscription - you don't have to do anything. The best part? Mulberry Unlimited is only $9.99/month.

Unlimited claims, unlimited coverage
Stay covered for as long as you want (seriously!), with no limit on the number of claims you file per year.

Claim up to $2,500 annually
File unlimited claims and receive up to $2,500 in repairs, replacements, and cash settlements every year. Your investment? Only $119.88 per year ($9.99/month).
No deductibles or hidden fees
We'll never charge you deductibles or service fees if you need to file a claim.
Protection for real life accidents
Go beyond the manufacturer's warranty with coverage for accidental damage like cracks, drops and user error. We protect your stuff against real damage.
Mulberry Unlimited
Shopping protection for serious shoppers
The Mulberry Unlimited subscription is unlike any product protection option on the market.
If you shop online frequently, this subscription is for you.

How it works
Shop online as usual, and we'll automatically add items to your Mulberry Unlimited subscription. We'll let you know when items you purchase are covered!
02
Go shopping!
Shop online at your favorite retailers like Amazon, Best Buy, Wayfair, and Walmart. We'll let you know when items you're browsing are eligible for protection under your Mulberry Unlimited subscription.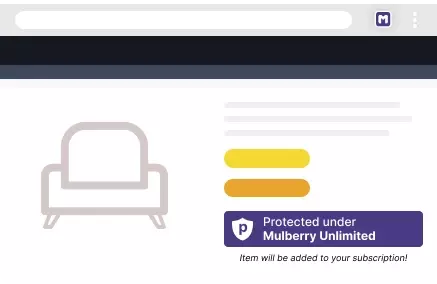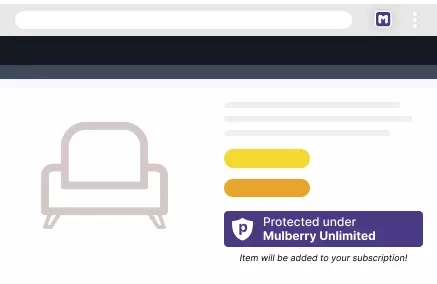 03
You're covered
When you checkout, we'll automatically add your eligible purchases to your Mulberry Unlimited subscription. Look for the alert, and know your covered.
Start your Mulberry Unlimited subscription
What are you waiting for? Subscribe today and we'll automatically start adding items you buy to your Mulberry Unlimited plan.