Pricing a product protection plan is a part art, part science. Depending on factors like your goals, products, and audience, the best way to price can vary.
Misaligned pricing can turn shoppers away, which can mean the loss of an initial sale or even a long term customer. But when thoughtfully executed, your pricing can drive more conversions, more revenue, and greater customer engagement and loyalty.
So how do you establish a solid pricing strategy? Here are 7 things to keep in mind when customizing your strategy.
1. Consider your goals
As you go into the pricing exercise for your product protection plan, first consider your goals. Do you want to convert more customers, increase margins, enhance the customer experience, or do you have a different goal in mind to target? If you have multiple simultaneous goals, you need to prioritize them. This is because pricing strategies aligned with each goal can conflict with one another.
For example, optimizing for greater conversion rate may lead you to discount the product protection plan significantly (even giving away product protection for free).
Focusing on optimizing for margins may lead you to set the price very high—even if you sacrifice more conversions. And optimizing for the customer experience may mean pricing the plan to increase attachment of a high-value service you know to increase customer satisfaction.
2. Determine your ideal warranty-to-cart ratio
Setting the price of a product protection plan isn't about setting a static price. It's about setting an appropriate price in relation to the price of the product. This ratio is what we call the warranty-to-cart ratio. It's calculated by dividing the cost of the protection plan by the cost of the product it is protecting.
Protection plan cost
_________________ = Warranty-to-cart ratio
Product cost
Warranty-to-cart ratios can range anywhere from 5% to 40% if you look at retailers currently offering protection plans at checkout. In our experience working with retailers across product categories, the ideal ratio lands in the 10-15% range.
3. Don't turn potential customers away
The price of protection plans is the #1 reason that shoppers don't purchase protection plans, and even see them as rip-offs. You may think that pricing your plan higher will earn you more revenue, but the reverse can be true. That's because fewer shoppers will add a high-priced protection plan. Some may even be turned off from buying a product from you altogether.
Charging over a third of the product price for product protection sends the wrong message about how you value your customers, and how you expect them to enjoy your products.
Take for example these headphones from JBL. The original list price is $199.95 and they're currently on sale for $169.95. Protection plans start at $25.99 (13% of the list price), and that's just for one year. A 3-year plan, which would probably be more desirable if not for the cost, comes in at a hefty $69.99 or 35% of the product price.
Charging over a third of the product price for product protection sends the wrong message about how you value your customers, and how you expect them to enjoy your products.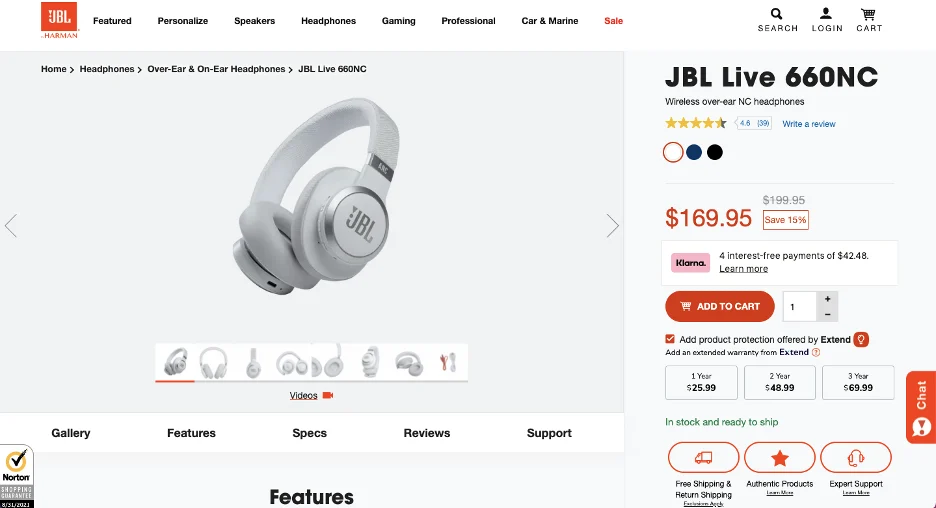 4. Don't copy Apple or Best Buy
Apple's AppleCare+ and Best Buy's Geek Squad have solid brands that they've leveraged to charge significant premiums on their protection plans. These all-encompassing services have earned a brand reputation that does not immediately translate to every other brand.
Best Buy is charging up to 34% of the price of this Dell laptop in order to get protection from the Geek Squad. But if you're just starting to launch a protection program, this is a great opportunity to get more customers opting to add protection to build that brand engagement.
And if you also sell your products on sites like Best Buy, it's great to give shoppers another reason to buy directly from you—affordable protection plans to ensure their products last.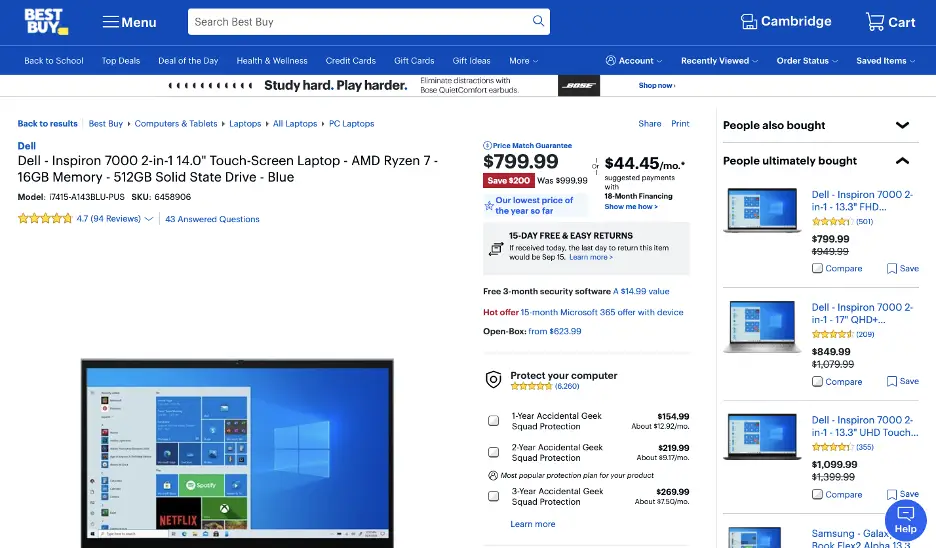 5. Consider the value of the protection plan
While we've worked with retailers who have significantly discounted protection plans to offer a great customer benefit, many land on a 10-15% warranty-to-cart ratio. This can offer significant revenue benefits while delivering value to customers at the same time.
This is particularly the case for higher ticket items, where shoppers are that much more conscious about making sure they survive any accidents in day-to-day use and may be less price-sensitive about a protection plan's price.
Take, for example, this couch from Interior Define. Protection plans range from $79.99 to $189.99—no insignificant amount, but very reasonable in comparison to the price of the product. In fact, the warranty-to-cart ratio ranges from 4.5% for a 2-year plan to 10.7% for a 5-year plan. These protection plans offer a valuable service, so you can absolutely take that into account to land on a fair price.
6. Scale the price with protection period
It's clear that using a static price for protection plans doesn't work. But neither does using a static warranty-to-cart (WTC) ratio.
In the previous example, we can see that the shorter duration plans lean on a lower ratio in order to better align value-to-cost expectations among shoppers. Otherwise, all duration plans would be priced equally, despite the clear difference in value between them. The shorter the duration, the farther you should target under that 10% mark.
7. Test promotional pricing to increase attachment
Protection plan pricing is another tool for you to optimize what you really care about selling: your core product offerings. While protection programs can represent a valuable and significant revenue stream, they won't compare to the revenue you can make from more conversions or from long-term happy customers.
You may find that customers who enjoy your products for longer—with the protection of a warranty plan—are happier customers more likely to buy from you again and again. For that reason, you may consider offering protection plans at a significant discount in order to increase attachment of those plans with more customers.
Doing so also has another benefit—offering discounted protection plans functions like another sale to increase conversion on your site. However, discounting the protection plan instead of the product allows you to maintain higher margins while still delivering value to customers.
Putting It All Together for Optimal Product Protection Pricing
Look at this as an example. A customer who wants a coffee maker around $800. They plan to use it daily and want to make sure they can make it last for years. They see these two choices:
Consider this comparison for warranty-to-cost ratio for each product. How effective is the company in each of the above points? What will the customer response be for each option? Seeing examples while shopping can help you see different strategies in place—and to evaluate which is more effective.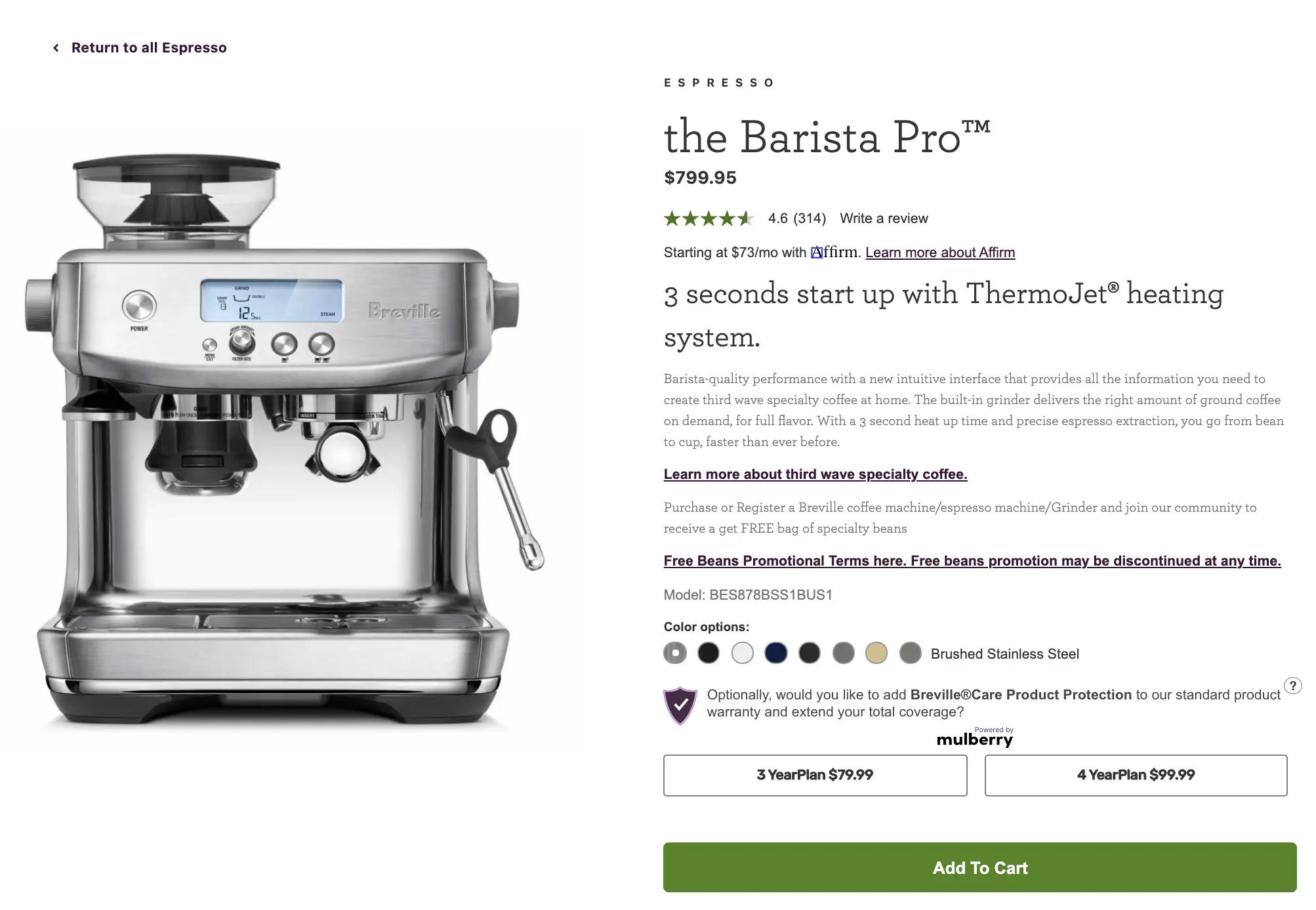 At the end of the day, your protection plan pricing strategy should reflect your goals and the metrics you most want to impact. Whether that translates into higher prices, lower prices, or even free plans, the strategy that makes the most sense for your business is the one that makes progress on the goals you want to prioritize.