Alternative payment methods, Buy Now|Pay Later options, shipping insurance. Once considered nice-to-haves, these features are now must-haves for the ecommerce customer experience. Whether retail giants like Amazon and Walmart started the trend or just popularized it, customers have come to expect certain services and features as part of their shopping experience. And for good reason - these each serve a unique customer need or pain point, giving them more opportunity to complete and enjoy their purchases. And now there's another trend that's becoming table-stakes: product protection.
What is Product Protection?
Product protection plans by definition, are paid service contracts that either offer accidental damage protection (a.k.a. ADH) and/or an extension of the original manufacturer's warranty terms on the covered item(s) for a period of time from date of purchase.
Product protection coverage is most commonly offered at point of sale, although it can be seamlessly offered for a period of time post-purchase by some providers. Some providers like Mulberry can even offer protection aftermarket, prior to the expiration of the original manufacturer's warranty.
Why is Now the Time for Product Protection?
No longer just a nice-to-have, product protection plans are now being purchased just as often as other commonly offered insurance options in checkout, according to this recent survey: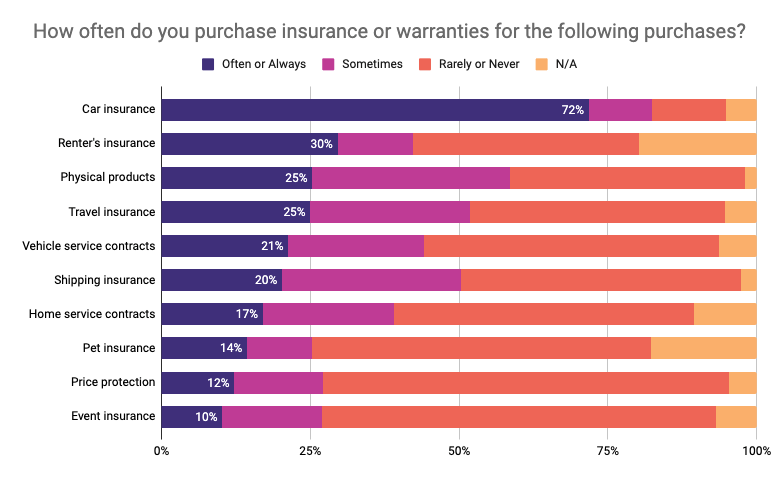 If you're questioning whether product protection is right for your customers, scan your competition, where you'll find that the product categories in which consumers have adopted product protection plans have exploded in recent years. Protection plans are now being attached not only on electronics, home furnishings, and appliances, but also on small kitchen appliances, bicycles & scooters, health & wellness items, bed & bath, hobby items, watches, and even footwear & apparel.
Product protection plans are not a new concept; brick & mortar home furnishings, appliance, and electronics stores have been selling product protection for decades. Online consumers are already demonstrating en masse that they are receptive to and willing to pay extra for relevant add-on services that offer convenience, peace of mind, or eliminate everyday hassles.
Consider such popular services as:
White glove inside delivery
Haul away
In-home assembly
Product protection
Shipping insurance

The momentum is undeniable. While your customers (especially younger ones) have also been flocking to innovative and lifestyle-appropriate alternative payment and afterpay methods for years, the sentiment is that accidental damage and extended warranty protection on their physical purchases is even more important to them.
When you look more closely at the demographics of these survey respondents, you'll find that the "Life Happens" dynamic drives the purchase behaviors. Consumers with kids, pets or both are much more likely to purchase product protection.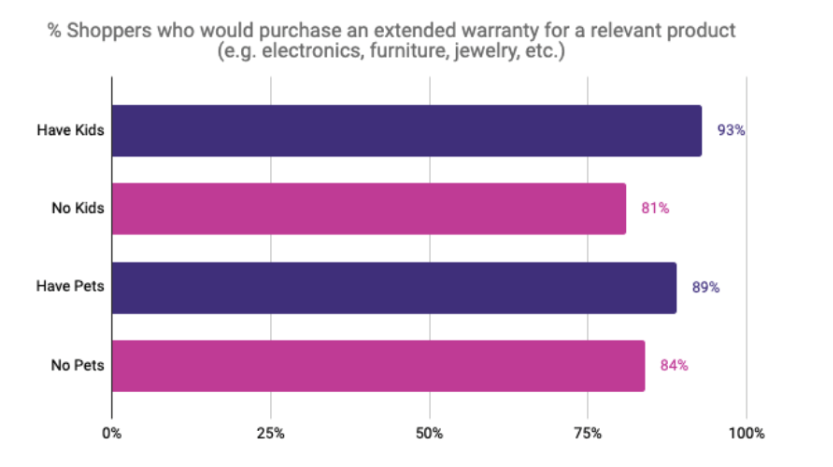 And perhaps not surprisingly, consumers in the under-50 segments are significantly more likely to purchase product protection.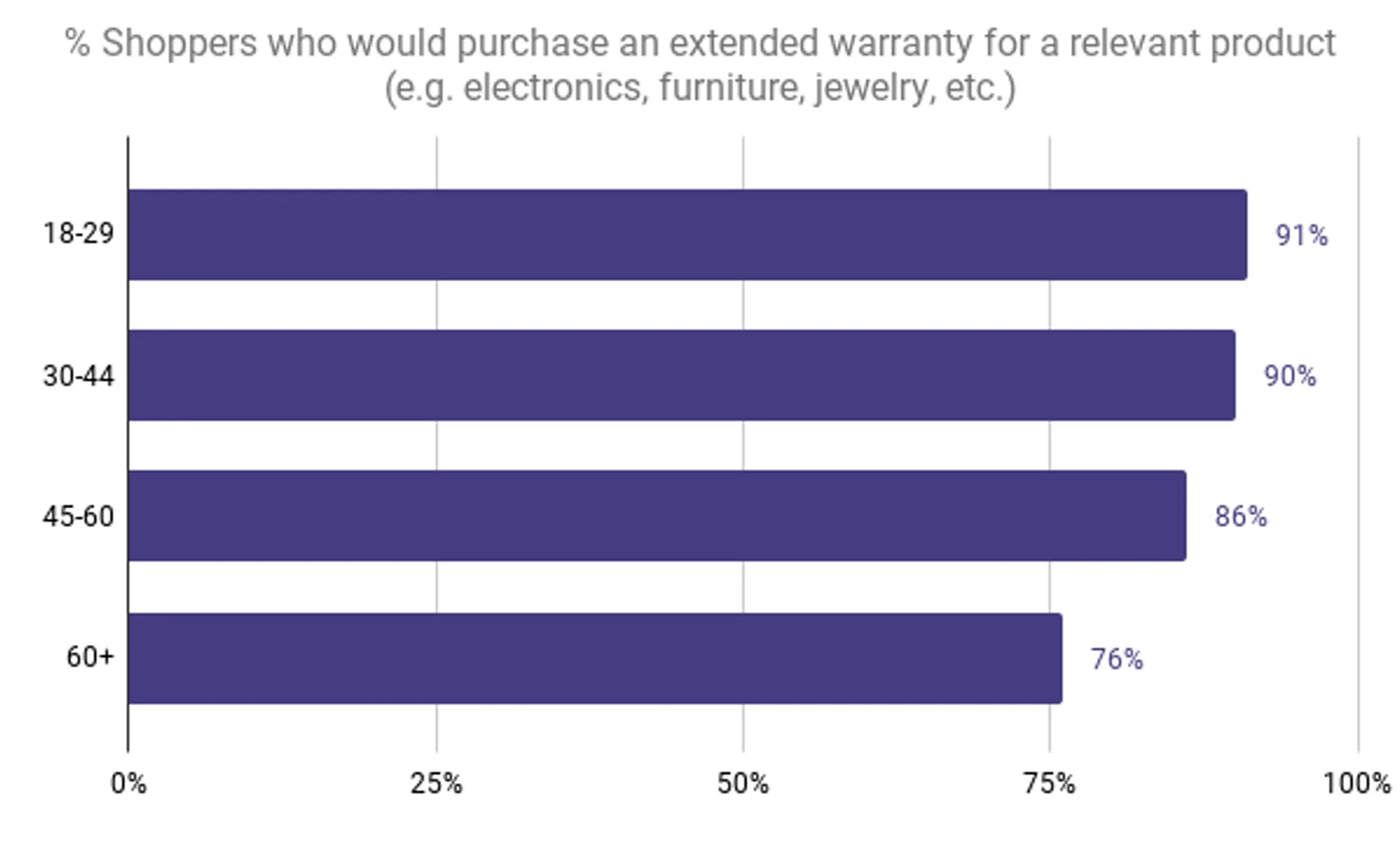 You now have more (and arguably better) choices for who to partner with. Asurion, SquareTrade, Guardsman, Allstate and other legacy providers are well-known, and all have online and in-store programs. With their large scale however, the legacy providers have naturally become focused on top-tier retailers, with little room to partner with businesses less than $1B in annual revenue.


Why is all of this important? Because your savviest and biggest competitors who were early adopters of product protection, alternative payment methods, or other creative add-on services already have an edge. They've spent years sensitizing customers to these options in the conversion funnel, paving the way for modern consumer expectations. Anyone not yet offering this service is now behind.
What's in it for my business?
Product protection plans can help with common problems that retailers face.
Conversion Rate Improvement
38% of consumers say they won't make an expensive purchase at a site where product protection isn't offered.
Product Discount Reduction
Key Mulberry partners have leveraged their shortest duration plans (e.g. 2 Years) as promotional tools during peak periods, temporarily discounting them to improve conversion without taking additional discounts on products. This tactic also works well in support of products controlled by manufacturer MAP policies.
Checkout Abandonment
Another Mulberry partner successfully tested the use of an abandoned checkout modal where a free Mulberry protection plan (up to a $169 value) was offered for cart completion.
Rewards Program Enrollment & Stickiness
Retailers can attach a free 1 Year MulberryCare plan as a bonus benefit to their customers who enroll in their Rewards Program.
Product Registration Goals
A Mulberry partner successfully launched a ride-along media program where customers were incentivized with a free year of MulberryCare accidental damage coverage in exchange for registering the manufacturer's warranty on their product.
Competitive Differentiation
A Walmart-owned Mulberry partner includes a Free 3 Year Accidental Damage plan with purchase of every mattress as a point of differentiation, and also offers affordable 2 and 7 year paid upgrades.
Product protection plans generate additional revenue and gross profits during a challenging time for all retailers. And what's more, digitally delivered products like product protection plans are unburdened by marketing costs or physical warehousing and logistics costs that come with physical products. Supply chain issues, labor and fuel costs, and everyday inflation are putting unprecedented pressures on consumer spending, and your profit margins.
Your stakeholders are likely expecting you to leave no stone unturned in the search of new sources of revenue and profits to help mitigate the erosion elsewhere.
It's good for your customer relationships. It's become harder and harder for consumers to find reputable and authorized repair services for electronics, home furnishings, small appliances, footwear, and apparel. Offering product protection plans in these times is a true benefit.
And you no longer need to fear that when you sell a product protection plan, you're handing your customer over to a potentially sub-par customer service experience in the event of questions, concerns, or claims. The new breed of protection plan providers like Mulberry own the entire CX experience, and aim to eliminate the myriad of gotchas and slow and complicated claims processes that have plagued the legacy providers.
What's involved if I want to add product protection?
Technology is a great enabler. Nowadays, the integration and maintenance of your product protection program should be fast, and relatively manpower free. With ecommerce platforms like Shopify, Magento, BigCommerce, Salesforce Commerce Cloud and others, plug-ins have been developed by leading providers like Mulberry that simplify and speed the integration.
When it comes to maintenance, there's no more need for spreadsheets and hours of manual labor assigning protection plan SKUs when you are onboarding new seasonal assortments. Consider Mulberry's industry-leading solution that automatically identifies new SKUs in your product catalog and correctly assigns the right duration and pricing offers.
Technology enables product protection to be sold in a frictionless manner in all your channels - online, in-store, and post purchase, thereby covering the entire customer journey, with options to purchase at the point in the transaction that is right for the individual.
Product protection has reached a tipping point — paved the way by retail giants setting new customer expectations, accelerated by technology enabling a new approach to offer easy and seamless integrations, and solidified by the many bottom line benefits realized through such a program. Now is the time to start offering protection plans, if you haven't yet, and, even better, thinking creatively about how to optimize your program to solve for your unique goals.