At Mulberry, our customers come first. We believe you should be able to enjoy your purchases without fear of damage that leads to expensive repairs or replacement. That's why we offer free 1-year product protection on nearly all of your online purchases. Yes, it's actually free - read more here about how we're able to provide free coverage for your purchases. We also offer industry-low prices for outstanding longer-term coverage if you want to extend your coverage for years to come.
How is MulberryCare different than other warranty plans?
We created MulberryCare to solve two of the biggest warranty concerns shoppers have: warranty plans don't cover enough and they cost too much. We agree on both counts, and we knew we could offer you a better product protection option.
Enter the game-changing Mulberry difference. We're pretty excited to offer the free Mulberry browser extension, and we love it when our customers are excited too. We like to think of Mulberry as your shopping assistant. Download the extension, pin it in your Chrome browser and we'll alert you while you're shopping when products are eligible for MulberryCare.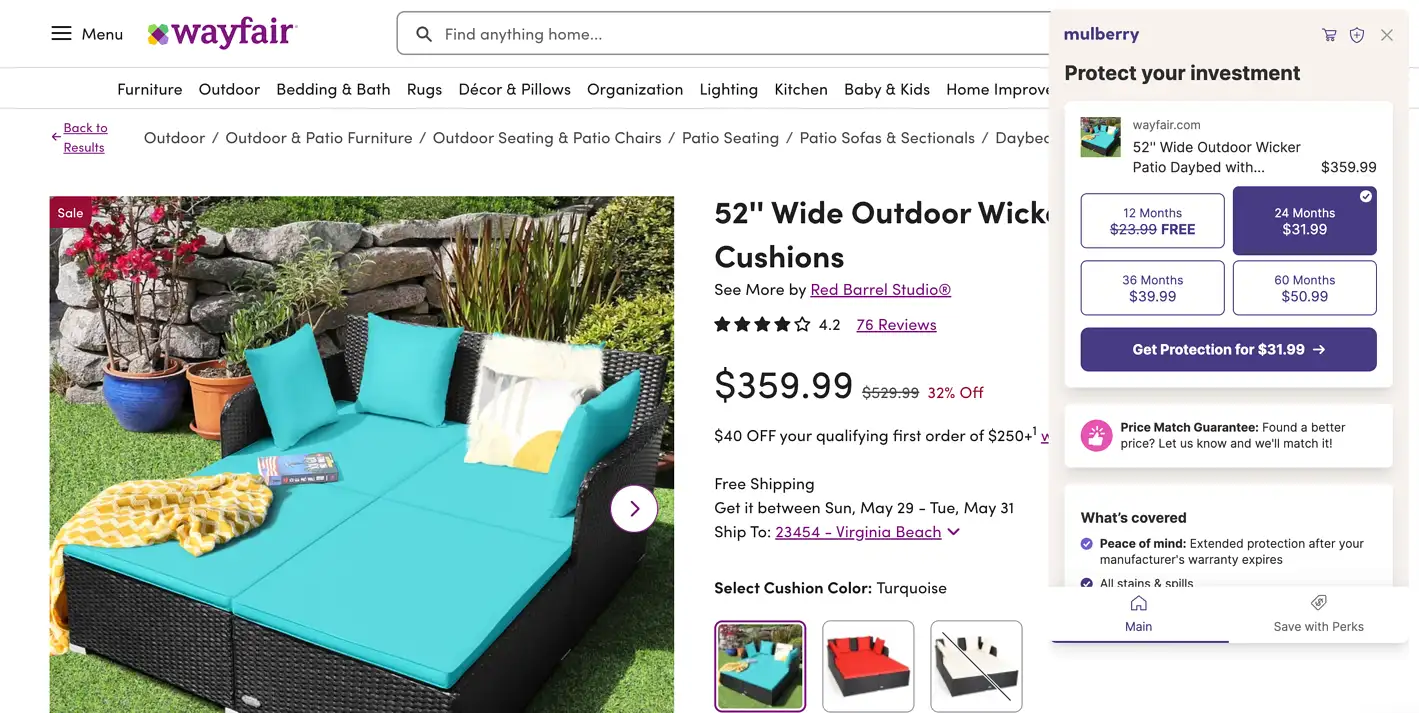 How free is free? The 1-year MulberryCare protection plan is 100% free, with no deductibles or hidden fees. And there's no surprise charge at the end of the year — if you get the free 1-year plan, your coverage simply ends at the end of that year. In fact, we don't collect any payment information for the free 1-year plan, so there would be no way to get any surprise charges.
Are the extended MulberryCare plans worth it?
If you care about the life of your purchases and intend to keep them around longer than a year, absolutely. When you get a free 1-year protection plan, you have the option to extend your warranty coverage for anywhere from 2-10 years depending on the product you purchase. Longer-term plans offer the same great coverage as our 1-year plans for the lowest prices in the industry. You'll be able to see the full list of term length options available for your product when you add a free 1-year plan.
Manufacturer warranties are usually limited to product defects and malfunctions. MulberryCare accident protection plans go beyond your warranty coverage to protect against accidental damage that comes from daily use. Check out the difference between manufacturer warranties and extended warranty coverage. Our protection plan coverage starts on day one when you add MulberryCare during check-out, so you're getting additional protection right away.
What products does MulberryCare cover?
MulberryCare plans cover a wide range of products, including small and large appliances, furniture, mattresses, luggage, rugs, electronics, bikes, jewelry, watches, fitness equipment and more. The Mulberry extension will alert you if a product you're looking at is eligible for protection. For a full list of covered categories, and details on what types of coverage applies to your purchases, check out the about MulberryCare page.
Our Mulberry browser extension isn't limited to just a few sites. It is available wherever you shop online, from Walmart, Amazon and Best Buy to your favorite local online retailers. That means you can get protection plans on the things you want covered, even if the site doesn't offer warranty options. You can always choose our free or low-cost MulberryCare plans instead of the warranty plans offered through the retailer. Make sure you compare the prices before you decide.
Already made a purchase? You can protect that too.
Yes, you can even get MulberryCare for items you've already purchased. Open the the Mulberry extension and click on the shield icon in the top right corner to access the form below - you'll know instantly if your purchase is eligible for MulberryCare.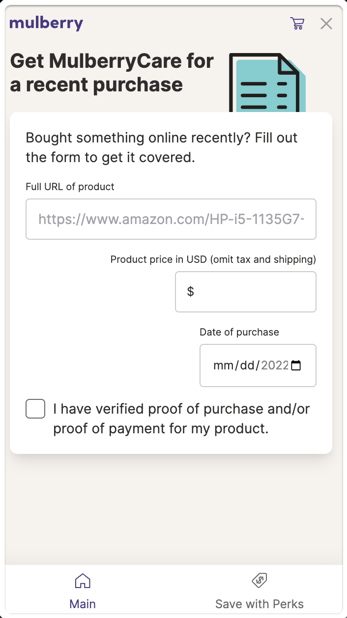 Does MulberryCare seem too good to be true?
It's not. We just believe in putting customers first, and providing you with the best product protection and customer service we have to offer. We're online shoppers too, and we provide the type of customer care we want to receive. We want our product protection plans to be clear and easy to understand—you know what you're getting and what it costs. If you have any questions, we're always available via email or chat.
Go download the Mulberry extension and see for yourself. We love hearing from our customers - let us know what we can do to make your shopping experience exceptional.