Filing claims on product protection plans has historically been frustrating for shoppers. Ask a few friends about their experiences filing claims and you'll often hear horror stories about long delays, abrupt denials, and unresponsive insurers. A study on insurance companies more broadly confirms these narratives, showing that 70% of consumer complaints about insurance dealt directly with issues in the claims process.
Whether shoppers are filing claims for a manufacturer warranty or an accidental damage protection plan, they often leave the claims experience feeling neglected and confused rather than fulfilled and cared for. So how do you turn this point of contention into an opportunity to deliver a delightful customer experience? Here are four keys to building a claims experience that your customers will love.
1. Clearly communicate what's covered and what's not
A great claims experience starts with precisely setting expectations. All too often, retailers and insurers set themselves up for failure by miscommunicating what is covered by their warranty programs. This typically happens when shoppers are oversold or overwhelmed by product protection offers.
On one hand, offers dubbed as a "lifetime guarantee" or " complete protection for life" can be appealing but can lead shoppers to assume that the coverage is more comprehensive than it may be in reality. On the other, a customer might purchase an extended warranty only to be greeted with a long legal document with inscrutable details. In both scenarios, customers receive a warranty that they don't fully understand, which means when the time comes to file claims, they're more likely to be disappointed.
Rather than using eye-catching punchlines or overly detailed documents, the retailers that set up smoother claims experiences use clear, value-driven messaging that excites customers about the additional protection but does not overpromise.
Nomatic, for example, makes it easy for their customers to understand exactly what types of incidents are covered by their accidental damage protection plan. Nomatic also clearly sets expectations by dedicating a page to explaining their lifetime warranty and the incremental benefit of their accidental damage protection.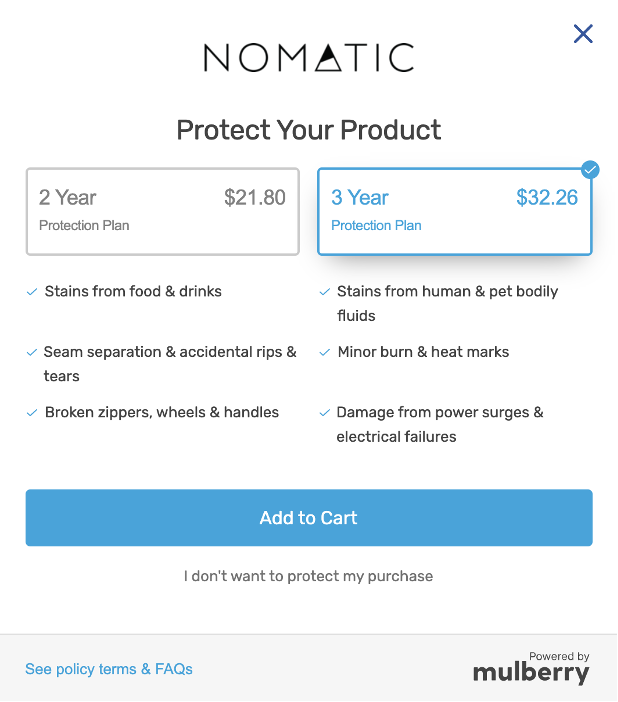 2. Prioritize transparency with your warranty terms
Customers often want to locate and re-read the coverage terms of their protection plan when they need to file a claim. In those moments, they expect to be able to easily find any relevant information with a few clicks rather than going through old receipts, searching archived emails, or calling a customer support representative (often a last resort for millennial consumers). While some people are comfortable taking these additional steps to find key information, most customers are expecting easier access.
An active customer portal where shoppers can view warranty terms on demand is a more robust solution for the modern consumer. This warranty information can be integrated into a customer account page to allow shoppers to manage their warranties similarly to how they view and manage their orders for other products.
Offering a dedicated product protection portal is an even better solution to enable customers to quickly view warranty details, file a claim, and get their issue resolved in a few short steps.
3. Accelerate the claims process without compromising the quality of customer outcomes
Today's consumers are used to speed. From 2-day shipping with Amazon Prime to 1-click purchases with Apple Pay, faster experiences have become synonymous with better experiences. This largely holds true for warranties as well, but only when that speed comes along with a human resolution. Two thirds of consumers will switch brands if they feel they've been treated like a number instead of a person and claims adjudication is an area where that line can be difficult to navigate.
Keep in mind that customers who are filing claims are often at a point of frustration. Maybe the blender they've been using every day for the last 6 months just stopped working unexpectedly. Maybe they've spilled wine all over a new leather couch. In these moments, combining speed with empathy allows you to give your customers the best possible experience. That means creating an intuitive claims submission process that doesn't require customers to type out lengthy details and answer open-ended questions. It also means approving customer claims as fast as you can but not rejecting any claims without giving customers a fair chance to speak to a human who can listen to their situation and empathize with them.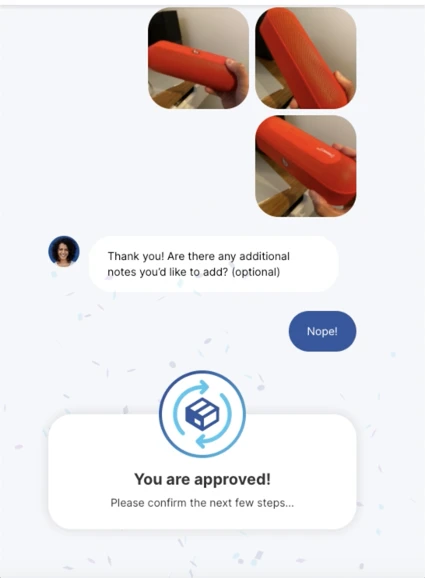 4. Define A Resolution for Each Customer
Just like with claims approvals, every customer wants a speedy resolution. Roughly 70% of customers expect their claims to be resolved within a few days. In the rush to meet these expectations, it can be easy to find the fastest resolution rather than what makes the most sense for that customer. In most cases, customers will have slightly different ideas for how they want their claims resolved.
Too often we see retailers or insurers send a check to a customer who would love to get a new product shipped out to them right away. Or they email a customer a discount code to repurchase when right now the customer doesn't want to consider purchasing a replacement.
The most effective claims resolutions are not only fast, but also take into consideration each customer's preferences to deliver their preferred solution.
Looking to upgrade your warranty claims experience? Mulberry will support you with everything from marketing your extended warranty program on-site to handling the claims process end-to-end. Schedule your demo and learn how to get started with Mulberry.