Your phone buzzes with the anticipated notification–your Amazon package has arrived! You run out the front door, not even bothering to grab your shoes. You excitedly tear it open, only to find a cheap, poorly-made product, not at all like it was pictured online. Your shoulders slump–it's a total dud. And now the annoyance of a return (at least it's free to send it back).
Sound familiar? For most of us, this scenario happens more often than we would like. It's tough to walk the line of finding the best deal on a product, and also finding a quality product that lives up to your expectations. Regardless of the product you purchase, protect yourself by adding an extended warranty like MulberryCare. It doesn't matter if the product costs you $15 or $150 - an extended warranty will cover you against product defects and damages.
You can add a MulberryCare plan to nearly anything you buy online, during the shopping or checkout process. Check out this Amazon energy-efficient smart thermostat - it's only $79.99, and you can add a MulberryCare protection plan!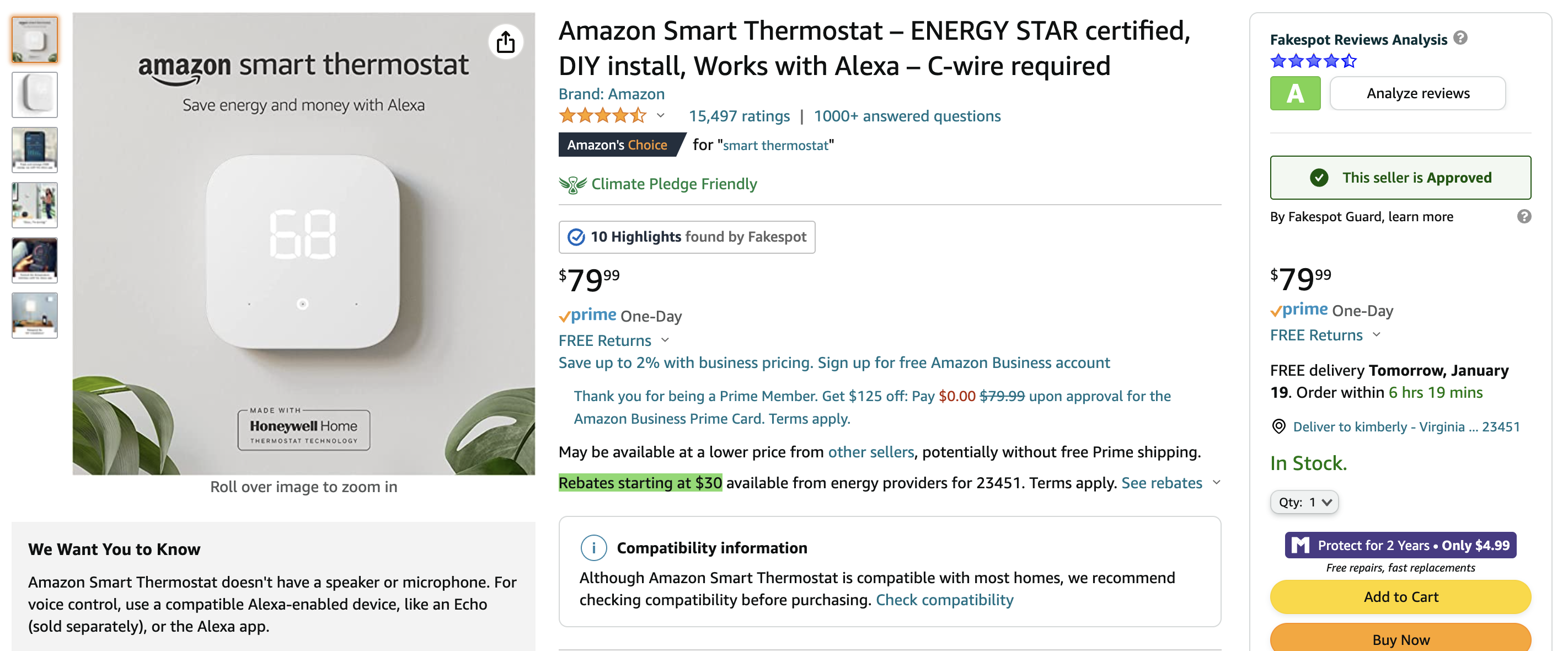 In the world of online shopping, disappointments are bound to happen at least occasionally - one thing you'll never be disappointed about is adding Mulberry protect protection as a fail-safe. Fortunately, you can also avoid disappointing purchases by using the information available online to inform your decisions. Here are a few tips to help you find high-quality products online.
Read the Reviews
First and foremost, one of the best ways to determine if a product is high-quality or not is by taking the time to read online reviews from other customers that purchased the product. In most cases, online reviews are submitted by unbiased customers who aren't afraid to share their true opinion, and sometimes you'll find additional pictures of the product in real life too. This can help you spot defects, determine if the color is what you're looking for, and avoid cheap products. They may also provide tips on installation or care based on their experience.
Beyond browsing the reviews on the retailer website, you'll find great information on websites dedicated to testing, reviewing and rating products. Authorities like Wirecutter, Consumer Reports, Good Housekeeping, and TechRadar perform extensive testing, research, and analysis on various products and their competitors to determine the best quality products. Do your research and shop smarter!
Consult Influencer Recommendations
We've all seen Instagram, TikTok and Facebook promotions from influencers. It may be worth following a few influencers that align closely with your personal tastes and preferences. Some influencers are paid directly by the brand to promote the product, but this doesn't mean their review isn't valid. Trusted influencers are very particular and will only support products and brands they really believe in, so you'll generally get their honest opinion.
There are some paid influencers or brand advocates that may only be doing it to help the brand, so be sure to read other reviews before swiping up on an impulse purchase marketed by a brand influencer. The more opinions you can collect the better, to avoid low-quality and disappointing purchases.
Research the Materials
Another easy way to tell if a product is high quality is to investigate the materials it's made from. Usually within the product details section, you'll find the primary materials used to construct the product. Products made from sturdy, durable materials are more likely to last than products made from plastic or other synthetic materials. For example, a coffee table may appear to have a marble top from the images, but when you read the products you'll see it is 'faux marble,' or inexpensive wood coated to look like marble.
When the product arrives, take the time to thoroughly look it over to ensure you received the item as you expected. Is it made well, or does it feel flimsy? Does it have imperfections or broken seams, or does it feel strong and sturdy? Take the time to carefully investigate the item and read any enclosed information or product documentation before taking off the tag or assembling your product, just in case you decide you want to return it.
Avoid Fast Fashion and Bargain Sites
If you're looking for high-quality items, it's important to start by shopping on reputable websites. If you're shopping for high-quality clothing that will last, fashion brands or retailers that classify themselves as bargain websites are probably not going to be your best bet. These websites specialize in the current styles and are meant to provide trendy, in-season products at an affordable price. If you don't intend to keep the piece long or are looking for a specific, one-time use item, this may not matter as much for you.
Unfortunately, because these companies have to make their margin somehow, sometimes quality gets lost in the mix. Rather than shopping on fast fashion sites, opt for quality brands that are reputable and known for being trustworthy. If you do go this route, be sure you know the return policy so you don't get stuck with something you won't use.
When shopping for furniture, another good rule of thumb is to avoid bargain furniture sites. Companies that advertise cheap furniture can be useful for some items, but for furniture you'll use regularly, it's worth waiting for a good deal at a higher-quality store. Cheaply-made furniture can break, rip, and scratch easily, especially if you have kids. At the very least, add a MulberryCare extended warranty to ensure you're protected against damages down the road.
With the right tricks up your sleeve, finding high-quality products online isn't as hard as it might seem. By saving for your purchases, shopping in the right places, and doing your research, you'll be able to find deals that make high-quality purchases affordable, and you'll be able to enjoy your items for years to come.