Building relationships with ecommerce shoppers has never been more difficult. Accelerated by pandemic-related shifts in consumer behavior, US ecommerce sales grew 44% in 2020 alone. In this increasingly crowded ecommerce landscape where the majority of consumers are loyal to 5 or fewer brands, having a high-quality product at a competitive price point is not enough. Your competitors, from Amazon to the newest Shopify store, also invest heavily in price and product and for the most part have these factors figured out.
The solution is more nuanced. 80% of shoppers agree that the brands that are able to stand out and build long-term relationships are those that are able to consistently impress their customers with delightful experiences.
But how do you create delightful experiences in the brief moments you have each customer's attention?
Let's look at specific strategies that leaders in brand loyalty like Costco and Wayfair are employing to create lasting impressions and effectively connect with their customers.


Optimize your conversion path

Nothing frustrates brands more than bringing a new customer to your website only to lose them when they decide they don't have enough information about your store or products.
As a consumer, this can be an equally frustrating experience. Imagine you're on the cusp of purchasing a couch you really like but the product photos on a white background make it hard to understand what the couch will look like in your home. Rather than reach out for more detail, nearly every shopper will go straight to a competitor looking for a couch that they can visualize in their space.
Lack of information is one of the primary reasons consumers grow frustrated with an on-site experience. Fortunately it's a problem that brands like Walmart are solving with clear and highly educational product pages that delight customers through a level of detail that's almost excessive.
Walmart anticipates nearly every question that might arise for customers making a purchase and proactively addresses them on product pages. Concerned about the quality of a product? Find countless, easily searchable, reviews. Curious to see how a product might look in action? Many of those reviews have customer photos attached to give you additional perspective. Have a question that you think is specific to you? Detailed Q&A sections address even the most obscure questions.
The particular strategies you'll want to implement for your brand will vary depending on your products. Reach out to customers for feedback on your product pages and questions they may have had about your products to ensure that future customers are impressed with your attention to detail as they make purchases.


Develop your brand identity on social media

Perhaps the most common reason customers don't return to a brand is apathy. Brands that aren't able to stay top of mind will be forgotten after the first purchase. The story isn't much different even for loyal customers. About 50% of loyal customers who identify as loyal to a brand have left for a competitor who was able to stay more relevant.
A strong social media presence is key to staying top of mind and presents a massive opportunity to impress your customers. Everyone uses social media today, but the brands that are most successful make themselves memorable by developing a clear identity.
Article is a furniture brand all about making great style easy and helping people build beautiful spaces in their homes. They've strengthened this identity by focusing on sharing customer content rather than staged product photos. Article's Instagram page is full of content highlighting the spaces their customers have been able to create. They also effectively leverage Shoppable Instagram to help people visualize how specific Article products might fit into their own spaces.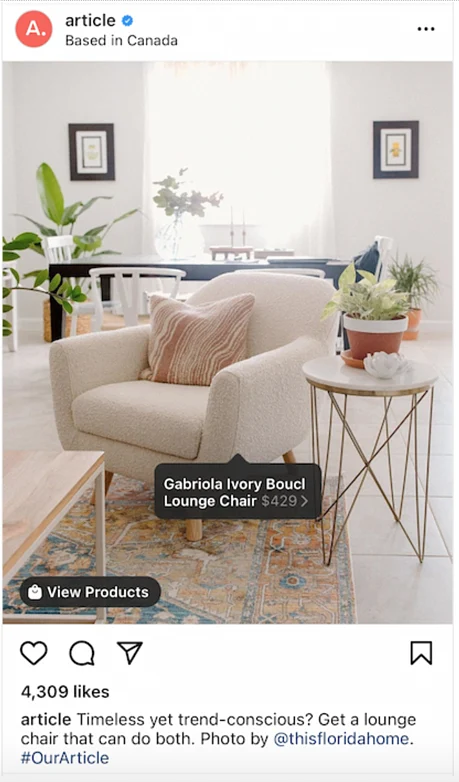 Personalize your marketing communications

The challenge of standing out is especially obvious looking at any email inbox. Shoppers are inundated with headlines that look like "Final days to get 10% off" and "New limited edition colors". These types of emails absolutely add value and drive revenue but can also easily be drowned out when used on their own. Customers end up looking for the email subject with the highest discount rather than identifying with the brand selling products.
Personalization is an easy way to delight customers by showing them you are a brand who listens and cares. Wayfair is adept with personalized emails based on information they've gathered about each customer, or on particular products they know an individual customer might be interested in.
After shopping at Wayfair for bar stools, rather than sending a generic abandoned cart email with a subject line that looks like "You left something behind", Wayfair will use something much more personal to stand out like: "Are these the bar stools you wanted?" coupled with recommendations for other bar stools similar to the one that was added to cart. Personalization, despite being automated in most cases, shows customers your brand is providing them value that is unique to them.


Make customer service a competitive advantage

The importance of investing in customer service is common knowledge, but there's a distinction between good customer service, and customer service that becomes a competitive advantage. Stand-out customer service can be an important relationship-builder with 69% of Americans saying they would spend more on a company with great customer service. Differentiating yourself on customer service, however, is easier said than done.
In the customer service arena, standing out comes down to exceeding customer expectations. Costco has embodied this concept as they've built their brand. Talk to a friend about Costco and it's not uncommon to hear a story about how they reached out with an issue about a product and Costco was able to offer a replacement with no hassle. Their website makes it clear they will repair or replace a new item in nearly any scenario, including when a customer is dissatisfied, when there was damage to the box during shipment, or even if the customer simply decides they no longer want the product.
Costco also exceeds expectations by making themselves available to their customers regardless of medium or timing with 24/7 support by phone or email and in-person access to support staff during store hours. They even give customers robust self-service options for support that allows do-it-yourselfers to easily troubleshoot without needing to make a phone call.


Shore up the post purchase relationship with product protection

Accidents happen and customers have issues post purchase from time to time. Despite your efforts in customer service, these scenarios can complicate how shoppers perceive your brand. Maybe a pair of headphones had a bluetooth issue for a customer after three years of use, or maybe one of your customer's dog scratched up a couch cushion. In situations like these customers end up using a suboptimal version of your product for years and may even forget how positively they felt about your brand prior to these mishaps. Accidents can be difficult to account for, but a dedicated product protection program can ensure that no matter what happens, customers have an incredible experience with your products.
Breville expects customers to use their products for years and as a result offers extended product protection on all of their top sellers. The BrevilleCare Product Protection Plans by Mulberry are offered directly on product pages and give shoppers options for additional protection of various durations. The plans ensure that regardless of what happens, for years after they purchase a Breville product, customers can expect that if something goes wrong they will be taken care of. From Breville's perspective, even if something goes wrong, their protected customers will always be able to enjoy fully functional Breville products.
Each of these strategies, when employed effectively, helps ensure that from the moment shoppers first discover your brand through each incremental interaction they are delighted by the experiences you've created. In turn, you'll create more positive energy in your customer base that will stand out and help create longer-term relationships.