Offering product protection online used to be a painful process. Retailers needed to build relationships with insurance companies, find the right coverage for their customers, negotiate rates, and figure out how to connect the extended warranty experience with their existing customer support workflows. Next, retailers needed to spend hours on custom development work to map warranty SKUs to relevant products and integrate these offers into their website. End-to-end, most retailers would work for several months before selling their first product protection plan.
Mulberry has reduced that long, cumbersome process to a matter of hours. Our user-friendly technology and dedicated onboarding team have helped Mulberry partners start selling product protection plans in a fraction of the time without any upfront costs or operational overhead.
Here's how you can start selling product protection plans today with Mulberry in 4 simple steps:
Step 1: Connect with the Mulberry Success Team
Start off by sending us an email at hello@getmulberry.com or by requesting a demo. A representative from the Mulberry team will reach out to you to learn more about your goals, share examples of retail integrations, and walk you through the partnership process.
If you're ready to start integrating your product protection program right away, we'll connect you directly with our onboarding team and help you move through the next few steps in the process. If you'd like some more background on Mulberry and how to incorporate product protection into your on-site experience, our team can start out with a detailed demo of the platform.
Step 2: Install Mulberry onto your ecommerce platform
Kick off the technical integration by installing Mulberry onto your ecommerce platform. Mulberry's flexible APIs and highly customizable widgets can be easily connected to any ecommerce system including custom-built platforms. Retailers on Shopify, Magento, and WooCommerce can use our pre-built plug-ins to integrate within a matter of minutes.
Retailers can also easily integrate Mulberry with Enterprise Resource Planning (ERP) systems as needed to minimize changes to back-end processes and preserve data integrity.
Throughout the technical onboarding process, Mulberry partners receive direct support from our onboarding team to provide detailed best practices, consultative guidance, and quality assurance checks.
Step 3: Leverage our Tailored Merchandising Strategies
As part of the onboarding process, the Mulberry team delivers a customized merchandising strategy to each retailer to ensure their program is as successful as possible. Our recommendations focus on a few key elements.
Protection plan pricing
Are you interested in increasing AOV? Driving up profit-margin? Maximizing conversion rates? Just like any other product you offer on-site, price will directly dictate how your product protection offering will impact your business.
Based on your goals, Mulberry will conduct market research to devise a pricing strategy that addresses what type of coverage you should be offering, how long customers expect their products to be protected, and how much customers will expect to pay.
Messaging and communication
Over years of consumer surveys and A/B testing, Mulberry has refined our product protection messaging to be as clear and concise as possible. We'll provide you with these best practices and help you tailor these strategies for your brand so customers can easily understand the value of additional protection specifically for your products.
Protection plan placements
Mulberry's flexible widgets allow retailers to seamlessly present product protection options to customers without interrupting the buyer journey.
Our retail partners have strategically integrated Mulberry offers throughout the on-site experience, including on product pages, through dedicated modals, in cart, at checkout, post-purchase, via SMS, and more.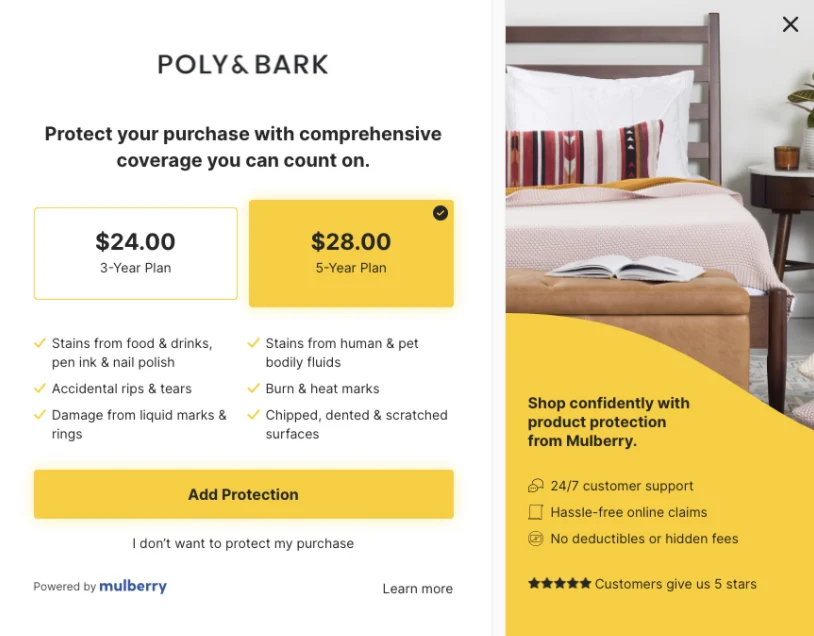 Step 4: Launch and Optimize
With the technical integration set up and your strategy in place, it's officially time to launch!
Once you're live, customers can start purchasing long-term product protection. Customers who file claims will automatically be taken care of by the Mulberry team.
While the implementation process is over, the journey doesn't stop with launch. Our success team works closely with each partner to optimize their program on an ongoing basis. We're constantly running A/B tests, refining pricing, and building new coverage programs to ensure that retailers who partner with Mulberry are offering their customers the best product protection plans on the market.
If you're interested in offering Mulberry protection to your customers, let's get connected! Send us an email at hello@getmulberry.com or contact us here to get started.
---