Looking for an AppleCare alternative?
Save up to $429 with a MulberryCare plan for your Apple device, and you'll never pay any deductibles.
That's right, with Mulberry you can get the same coverage for a fraction of the price - even FREE for the first year. No limit on the number of claims, no hidden fees, and a hassle-free online claims process.
Install the extension and see for yourself.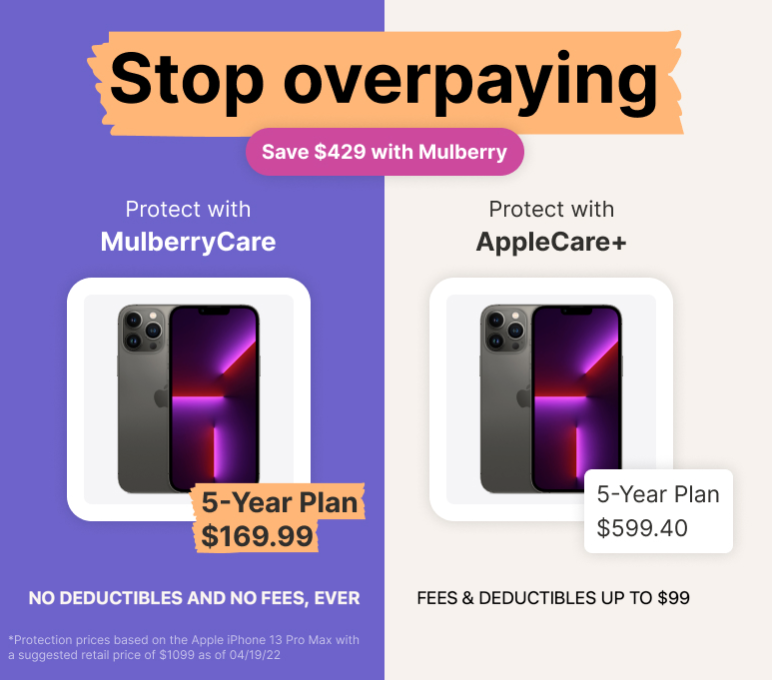 Why is Mulberry better than AppleCare?
NO deductibles, no matter what device or what type of damage
NO hidden fees and no service fees
NO limit on the number of claims
Free 1-year protection plans
Save 70%+ on extended protection
Fast, easy online claims process
⭐⭐⭐⭐⭐ customer support


Check out the price comparisons for a 3-year plan on an Apple iPhone 13. If you want to save money, Mulberry is your best choice.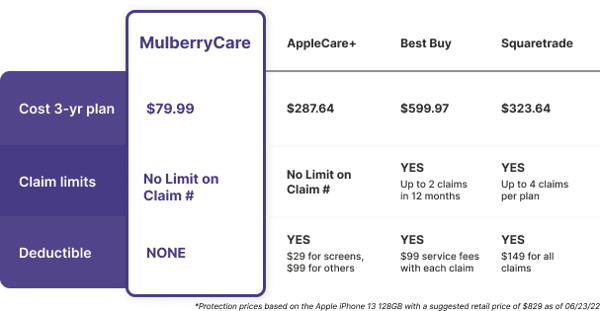 Learn more about extended warranties
Warranties
You could argue that it depends on the value you're getting from an extended warranty plan. Not all warranties are the same, so it's important to do y...
Read More →
Warranties
If you're making a new Apple purchase and evaluating your protection plan options, you're probably familiar with AppleCare and AppleCare+. But what do...
Read More →
Warranties
Choosing whether or not to get AppleCare+ for your AirPods can be a tough decision. While you'd probably like to protect your expensive earbuds, you...
Read More →
Mulberry is your best choice for product protection
What's the Mulberry difference?
Mulberry offers free 1-year product protection for nearly all of your online purchases, plus savings on extended coverage and other insurance offers.
Is free product protection too good to be true?
The Mulberry browser extension allows you to get free 1-year protection plans on the products you buy online. But can it really be free?
Extended warranties: are they worth it?
Are extended warranties worth it? Here's how to decide when and why to get an extended warranty to protect your purchase.