You've seen the prompts before - when you're about to add something to your cart, or you're confirming your details at checkout, or even after you've made a purchase and you're checking on its delivery ETA. It seems nearly every site you shop with wants you to buy a protection plan to go along with your purchase.
The Mulberry browser extension allows you to get affordable product protection plans on relevant purchases you make online. That includes that Fire tablet from Amazon, that patio chair from Wayfair, or that dishwasher from Home Depot.
OK, but is it really free?
Yes! Mulberry offers protection plans that are completely free, with no deductibles and no hidden fees. And there's no surprise charge at the end of the year — if you get a free plan, your coverage simply ends at the end of the term. In fact, we don't even collect any payment information for the free plan, so there would be no way to get any surprise charges.
How can this be free?
Old school product protection is overpriced
Have you ever thought, this product protection plan is way too expensive? Well, you're not alone. It's the number one reason shoppers don't get protection plans, even though the coverage they provide can be hugely valuable. At Mulberry, we believe that product protection should be accessible to every shopper. And, it turns out, when you offer protection directly to shoppers, you have a lot more flexibility to price it (or even give it away).
The reality is that the actual cost to protect a product is not nearly as high as the prices you typically see online. In some cases, we've seen retailers charge up to 35% of the product price for a protection plan, but the actual insurer cost is a fraction of that.
Which means that if we at Mulberry want to give away protection plans for free, it's a lot more affordable than you'd expect.
Sales of longer term plans offset the costs of free protection
Of course, we can't just give away free plans, so we also sell longer term plans, such as 3-year and 5-year coverage. The sales from these plans can help us subsidize the free plans we give away, while still offering the lowest prices on the market. Those prices — while giving us enough to offset the costs of those free plans — are still the lowest on the market because we're able to deliver those plans directly to you, our customers, and we're more interested in giving you access to product protection than earning an extra $1 or $10 or $100 for a specific plan.
Here are just a few examples of what that means in terms of savings:
BestBuy iPad with Wifi: less than half the price for even longer coverage
AppleCare+ 2-year plan: $69
MulberryCare 3-year plan: $32.99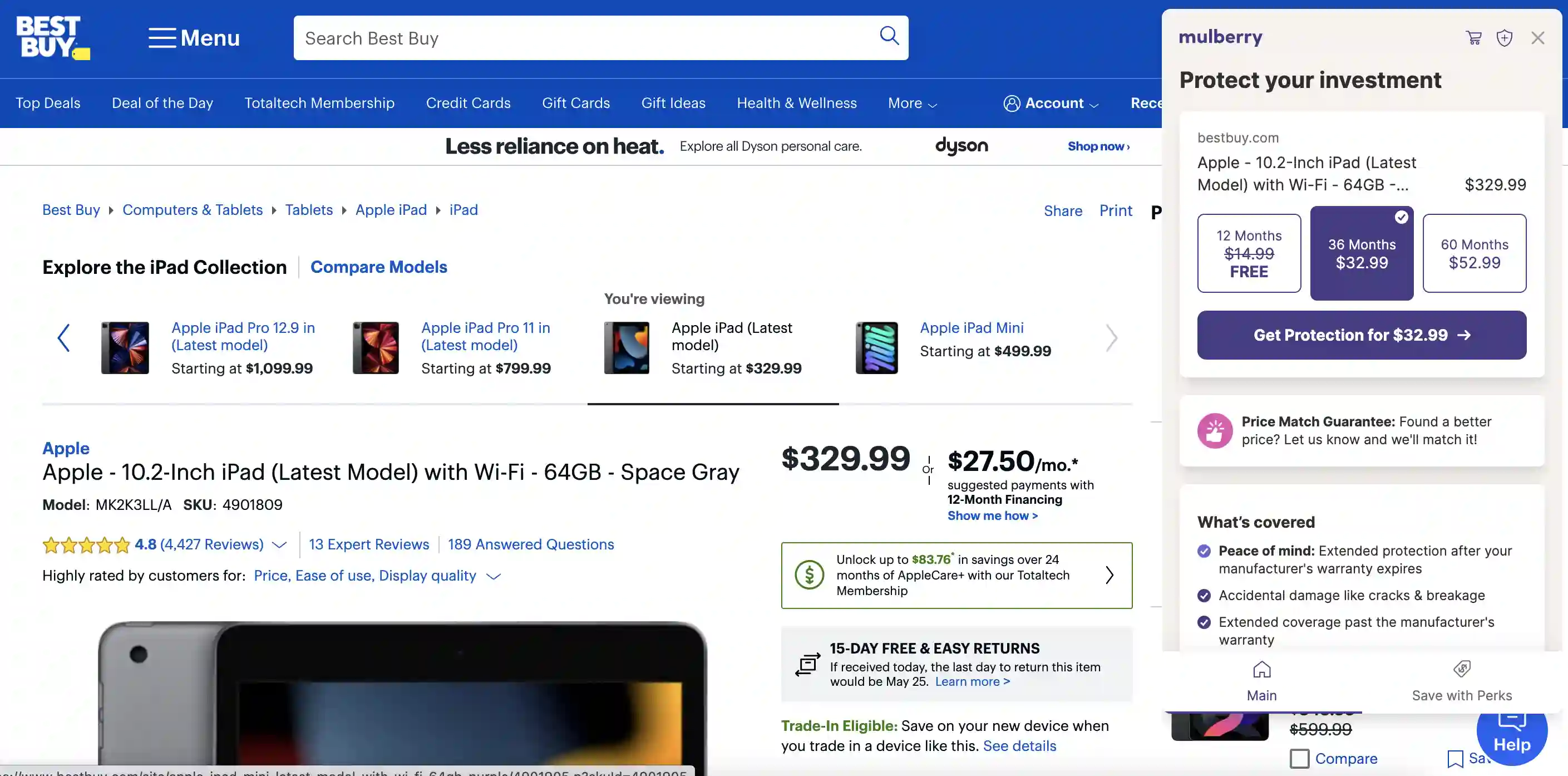 Overstock Outdoor Sectional: save 55% for great coverage
Overstock 5-year plan: $119.99
MulberryCare 5-year plan: $53.99
Home Depot Beverage Fridge: why pay 25% more for the same protection?
Home Depot 3-year plan: $75
MulberryCare 3-year plan: $59.99
So free product protection, while pretty great, is not too good to be true after all. Of course, we hope you'll love our protection so much that you'll buy some longer term plans too, but we do hope you'll take advantage of the only way to get free coverage for your online purchases. Download the free Mulberry extension to get started.