Smart shoppers know that extended warranties can save you from expensive repair and replacement costs down the road. Knowing how to calculate the cost of an extended warranty for your purchase will help you evaluate the coverage you're getting, and if you're being overcharged compared to the actual value of the plan. For more information on when an an extended warranty is worth it, check out this post.
When you're buying a product, you have many options for extended warranties through different retailers and warranty companies. It's important to compare the cost of various extended service protection plans for the item you're looking to purchase.
What to include when calculating an extended warranty cost
Warranty providers will offer different coverage options, service fees and deductibles - you'll need all of this information in order to calculate the total cost of the warranty plan, and future expenses should you need to file a claim. An extended warranty price represents a percentage of the total product cost. As a general rule of thumb, you shouldn't spend more than 30% of the product cost on a product warranty. Pro tip: for many products, you can get quality extended warranty coverage for a lot less than 30%.
Here's an example of what your cost calculation might look for a new iPad with a 2-year AppleCare+ protection plan, assuming you file one claim: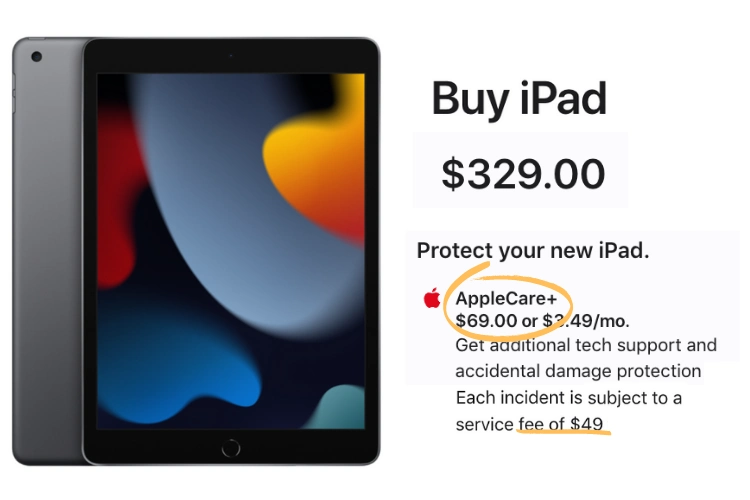 Cost of iPad 64 GB:$329
Cost of AppleCare+ 2-year plan: $69
Cost of claim deductible: $49
Total protection cost: $118 ($49 + $69)
Protection cost as percentage of product cost: $118 / $329 = .36, or 36%
Assuming you file one claim during your plan, the warranty cost of AppleCare+ is 36% of the purchase price of the iPad. Following the general rule of thumb, that's pretty steep.
Let's compare that AppleCare+ plan to a MulberryCare protection plan for the same iPad. The calculation below is for a mid-length plan of 3 years (one year longer than the AppleCare+ plan).
Cost of iPad 64 GB:$329.99
Cost of MulberryCare 3-year plan: $32.99
Cost of claim deductible: $0

Total protection cost: $32.99 ($32.99 + $0)
Protection cost as percentage of product cost: $32.99 / $329.99 = .10, or 10%
Just by doing a little extended warranty research and comparison, you could find coverage for a fraction of the cost. Factoring in the cost of the deductible almost doubled the price of an AppleCare+ plan, but if you don't read the fine print you may not add that into your extended warranty calculation. If the extended warranty cost seems too high for the coverage you're receiving, chances are pretty good you can find a better deal.
Why does the price range vary within a product type?
Even within a product category, there is a range for what you can expect to pay for extended warranty coverage. Factors like product price, product material durability, whether it requires specialized repairs or specific parts, where repair technicians are located and how accessible they are, and the mark-up from the insurance provider all affect the total cost of the extended warranty.
For example, a coffee maker with automatic programming and advanced tech will likely require more expensive repairs than a basic model. The cost of cleaning and protecting a $2,000 leather couch will be different than a $200 fabric couch.
Remember to price-check against other warranty options to make sure you find the lowest price for the greatest value. Many traditional warranty companies are notorious for overcharging you and underdelivering on coverage. The Mulberry browser extension will give you instant extended warranty cost options when a product you're looking at qualifies for protection, making it very easy to compare Mulberry insurance subscription plans to other extended warranty options presented to you during your shopping experience.
The cost of an extended warranty in different categories
We rounded up the most common product warranty categories and looked at the costs of 3-year protection plans to give you an idea of what you should expect to pay for a mid-length extended warranty in these popular product categories.
Electronics
If you want to see a breakdown of the coverage and costs from top electronics warranty providers, read our blog on the best warranty for electronics to see a side by side comparison for tech like phones, laptops, tvs, and earbuds.
Tablet: a 3-year protection plan will cost between 8-13% of the tablet price.
Smart watch: a 3-year protection plan will cost 10-15% of the smart watch price.
Rugs
With the amount of use rugs get from daily foot traffic, they are a common household item shoppers want to protect. In addition to using a rug pad and cleaning your rugregularly, a warranty is a good way to protect your purchase.
Rug: a 3 year plan will cost between 10-15% of the price of the rug.
Furniture
From dining room sets to dressers to living room seating, there is a wide variety in costs, and a wide variety in what it costs to protect each item type at different price points. To make sure you're not overpaying, read our blog on the best furniture warranty companies to know how to evaluate your options.
Table: a 3 year protection plan will cost between 12-24% of the price of the table.
Couch: a 3 year protection plan will typically cost 10-17% of the purchase price.
Bags and luggage
If you're a travel fan, you need a bag that can hold up on the road. Whether it's a backpack you're putting through the paces on your next outdoors trip or a suitcase that needs to withstand frequent airport trips, getting a protection plan on your bags and luggage helps it to last longer.
Suitcase: a 3 year protection plan will cost between 10-18% of the cost of the suitcase.
Outdoor and exercise equipment
Outdoor equipment warranties can apply to your favorite outdoor supplies, like tents, paddle boards, and other sporting equipment. Exercise equipment, from weights to at home treadmill machines, are also high use items that can take a beating.
Electric bike: a 3 year plan will cost 7-12% of the bike purchase price.
Treadmill: a 3 year plan costs 10-18% of the treadmill cost.
Mattresses
A quality mattress is an investment. Getting a mattress protector, regularly washing your sheets, and getting backed by a mattress accident damage plan is key to help it last. Mattresses are meant to be used for many years, which is why mattress protection plans typically last for 10 years.
Mattress: a 10 year protection plan will cost between 6-12% of the mattress price.
Jewelry and Watches
Another popular item to get insured, jewelry and watches need to be able to endure daily wear. Bent prongs, dull bands, and broken clasps can put your pieces out of use. You can protect your jewelry by extending its lifetime with an extended warranty.
Necklace: a 3 year plan costs 7-12% of the necklace price.
Ring: a 3 year protection plan will cost 6-12% of the ring purchase price.
Appliances
A coffee maker is one of the most common appliances that customers want to have backed with a warranty, and it's no mystery why. With most customers relying on their coffee machines daily, these appliances can go through a lot of wear and tear.
Coffee maker: a 3 year protection plan will cost between 14-22% of the price of the coffee maker.
Calculate your extended warranty cost to save money
Don't overpay for an extended warranty. Calculate the total cost of the extended warranty based on all of the relevant factors, and see if it falls within an acceptable range. If it doesn't, keep shopping around and don't forget to download the Mulberry extension to get alerts when low-priced product protection is available while you shop.