Cyber Monday may be over, but these 10 stores are extending the savings all week with Cyber Week sales that are ongoing after the holiday.
The weekend after Thanksgiving has long been known as the time for shoppers to get deals on all the items they're looking for in the holidays. This year's Black Friday and Cyber Monday deals didn't disappoint. From major savings on electronics and home goods to sitewide discounts on a variety of items, there were plenty of options to score deals.
But the chance to save isn't over. With more and more shoppers spreading out their spending rather than cramming their holiday shopping into a single day, many stores are extending their offers throughout the week.
Don't forget to shop with the Mulberry browser extension so you can purchase extended warranty plans for all your new products. Product protection ensures you'll be able to repair or replace your items without all the hassle and extra charges.
If you have more shopping to do, there are some sites that are still offering major discounts on a huge list of online products.
The 10 Biggest Cyber Week Deals
Here are the sites with extended deals that will offer you the chance to save big this week.
Bed, Bath & Beyond
This home goods mainstay offers a range of products for all rooms of your house. With massive discounts on hundreds of items from kitchen to bedroom, you won't want to miss a chance to browse. Their Cyber Week deals go through December 5th. Their biggest discounts include:
Up to 50% off kitchen, bedding
Up to 60% off home decor
Up to 40% off bath
Up to 35% off vacuums
Shop

Bed, Bath & Beyond deals here
Houzz
Houzz is the top home furnishing pick for many designers and DIY renovator enthusiasts. Their Cyber Week sale offers many of their bestselling home furnishings for up to 80% off. Whether you're looking to redo your living room space or add a new furniture piece to your bedroom, you can find what you're looking for in these massive deals from Houzz. Their discounts by category include:
Up to 80% off dining room and living room furnishings
Up to 75% off rugs
Up to 65% off bedroom furnishings
Shop Cyber Week sales from Houzz here Want to make your furniture last with extended warranties? Check out our guide to find the

best furniture warranty

company to back your purchases.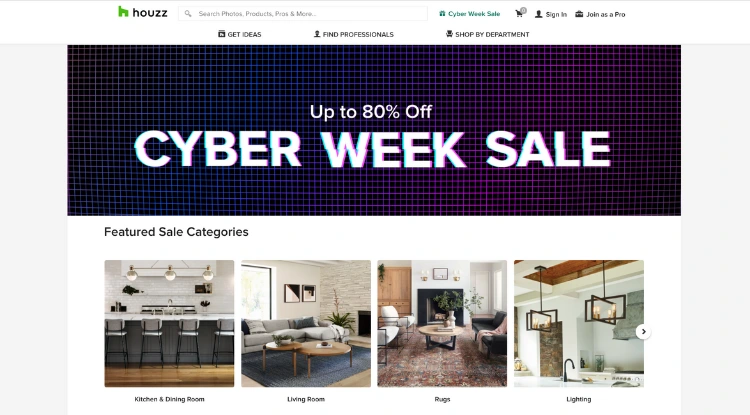 Macy's
Macy's is the star of the weekend with the Thanksgiving Day Parade. They're extending the joy of the season with Cyber Week deals on clothing, home, and

jewelry

that you won't want to miss. In addition to the ongoing weekly deals, Macy's is offering Daily Deals with limited time offers on specific items each day. If you're looking for clothing and accessories this season, check back daily to see the new posted discounts. Macy's big Cyber Week deals include:
Up to 50% off winter wear
Up to 25% off activewear
Up to 30% off regular priced items with code: FRIEND
Daily Deals with discounts up to 70% off toys, kitchenware, and more
Shop

Macy's Cyber Week and Daily Deals here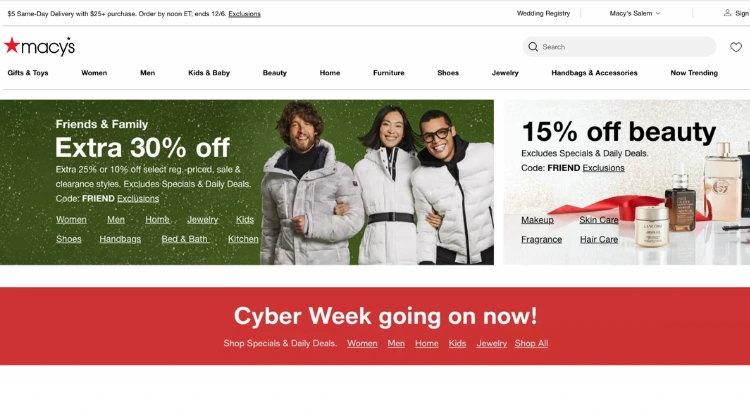 Allswell
Allswell is a mattress and bedding company known for quality hybrid mattresses for the whole family (dog beds included!). Featured in our Black Friday deals, Allswell is extending the savings for shoppers this week with sitewide discounts. These deals last through December 6. Allswell Shoppers can save with these deals:
20% off mattresses with code CYBERWEEK
25% everything else with code CYBERWEEK
Plus, get a free 3-year accident protection plan with your mattress purchase! Shop

Allswell Cyber Week deals here
Target
Target is the one-stop-shop option for shoppers looking for items for everyone on their list this season. And with major weekly holiday deals and Deal of the Day offers, you can save big while checking off your list. Worried about shipping delays? Target offers order pickup and same-day shipping options for all online orders on items that are in stock at your local store. Target's biggest deals include:
Up to 50% off toys
Up to 50% off tech
Up to 40% off Christmas trees
Ongoing Deals of the Day on selected items
Shop

Target's weekly Holiday Deals and Deal of the Day here
Terra Kaffe
Terra Kaffe offers premium coffee makers for the eco-conscious, high-tech coffee lover. Their TK-01 model boasts a sleek design, automated brewing, and an easy to use touchscreen. It's the perfect machine for those who want the personalized coffee-shop experience at home. You'll want to act fast—this deal ends December 4. Terra Kaffe's offers this week are:
$100 off TK-01 premium espresso machines
Free shipping on all coffee bean orders
Shop

Terra Kaffe's week discount here
Dyson
Dyson is well-known for their powerful vacuum cleaners. But they also use their Dyson technology in fans and heaters, and even hair care products from blow dryers to flat irons. This week, you can save big with their extended Cyber Week sale with up to $120 off Dyson technology. This discount goes through December 4, so be sure to check them out today. Dyson's big cyber week discounts include:
Up to $120 off humidifier fans
Up to $50 off cordless stick vacuums
Up to 3 complimentary gifts with hair dryer purchase
Shop

Dyson's Cyber Week deals here
Boutique Rugs
Featured in our Black Friday weekend deals, Boutique Rugs is extending their sitewide sale. For Cyber Week, you can score savings on everything from area rugs, to hallway runners, to outdoor rugs. Worried about muddy shoes? Make cleaning your rug easy with their collection of washable rugs that can go in your washer. The Cyber Week sale from Boutique Rugs includes:
65% off rugs with code: CW65
Free shipping on all orders
10% cash back on orders
Shop the Boutique Rugs sitewide sale here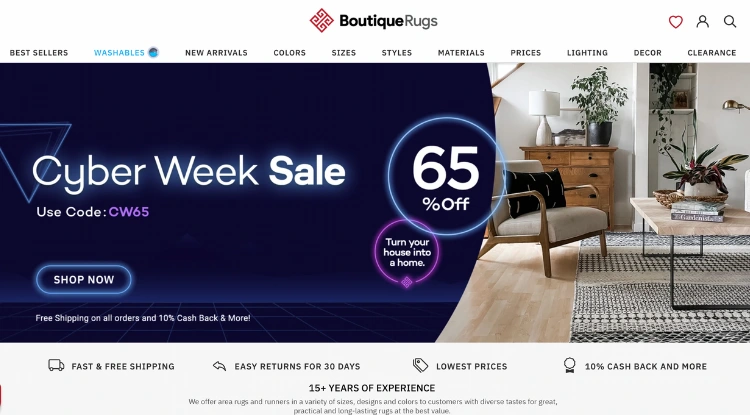 Best Buy
Tech giant Best Buy is offering ongoing Cyber Deals for shoppers in store and online. With an inventory of tech from laptops and TVs to kitchen appliances, Best Buy offers a wide range of products at great deals. In addition to their weekly Featured Deals savings, Best Buy updates their Deal of the Day with new discounts on several items each day. Make sure to shop their Cyber Deals now, as Featured Deals go through December 5. Best Buy's continuing Cyber Deals include:
Up to $200 off select TVs
Up to $400 off Windows laptops
Up to 50% off small kitchen appliances
New Deal of the Day posted daily
Shop

Best Buy Cyber Deals here

Considering backing your tech purchase with product protection? We looked at protection plan costs and coverage from AppleCare+ to Best Buy to Amazon and more to find the best electronics warranties. Read our comparison guide to get a

great price tech warranty

on your purchases.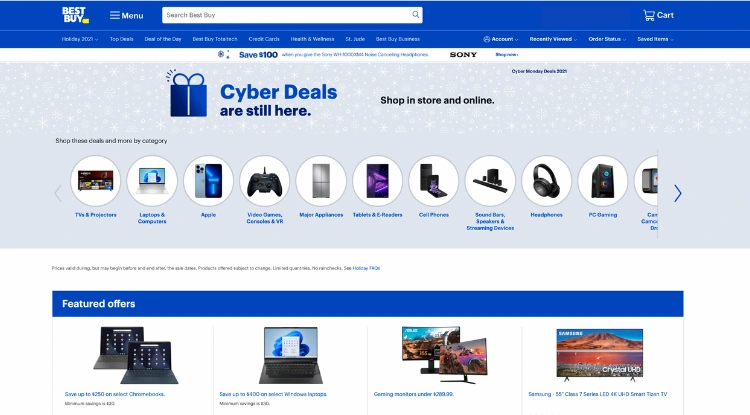 Mirror
The Mirror home gym is a hit with yoga enthusiasts and weight lifters alike. The Mirror workout screen gives users the personal trainer experience while exercising at home. Featured in our Black Friday weekend deals, Mirror is now extending their Cyber Monday savings. It's not clear how long this offer is extended for, but we do know it's limited—so shop now before it ends! Mirror's extended sale offers:
$500 off the Mirror Package
Free delivery and installation ($250 value)
Shop

Mirror's Cyber sale here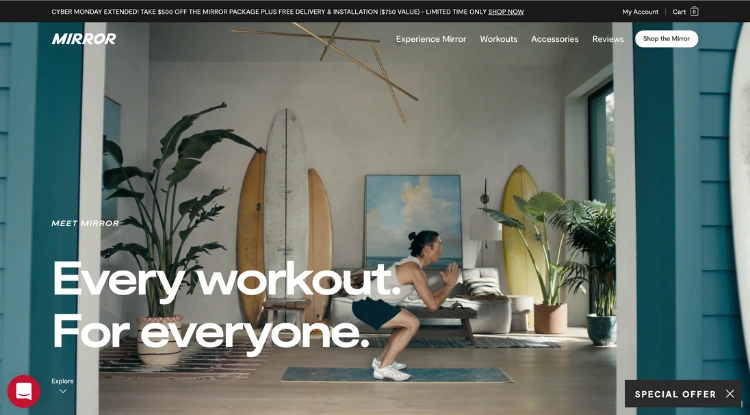 Maximize Your Savings with Free Accident Protection Coverage
You can extend the life of your products with affordable extended protection insurance plan on any eligible product you shop for this week. Download the Mulberry browser extension for shoppers to get affordable coverage on items from rugs to furniture to electronics and more. Shopping for others? You can add low-cost product protection plans and easily switch the warranty over to your gift recipient.