For your tech purchases from TVs to headphones to computers, you want to make sure to get the best extended warranty for electronics.
Electronics are high-cost, high-use, and at high risk of damage. Extended warranties like MulberryCare are worth it when they can save you the cost of replacing the item and the long time waiting for your replacement to arrive. That's why 61% of shoppers in our 2021 shopping survey reported that they buy extended warranties, also known as product protection, for their electronics purchases.
Many locations that sell electronics offer their own warranty options at checkout. In addition, customers have other options to purchase warranties separately through warranty providers.
What an electronics extended warranty covers
New tech is covered by a standard manufacturer warranty, which automatically comes with your purchase. This provides limited coverage that only applies to problems that occur because something wasn't manufactured correctly.
An extended warranty for electronics can include any of the following:
Extended length of your manufacturer coverage
Accidental damage coverage
Support team and software troubleshooting
How to get a great price tech warranty
Protection plans are difficult to compare side by side. You have to make sure to evaluate what the accidental damage warranty covers and what the total cost is that they're charging for that service.
When comparing electronics warranty plans, here are some things to consider to get a great price on your tech warranty.
Look at:
Length of time of contract. Don't compare the cost of a 1-year plan to a 3-year plan. You often get a better deal by choosing a longer-length plan if you plan to use the product for multiple years.
Total of monthly costs. Some plans give you the option to pay the plan per month, or work according to monthly membership costs. Add up the monthly costs to see what they would cost over the full length of the contract. You may save money by paying all at once.
Claim limits. Some plans include limits on the number of claims you can make while you're covered. Look at the limitations to see what value you're getting for the length of coverage.
Deductibles. Many companies charge a deductible or service charge to make a repair when you've filed a claim. If you will be charged to use your warranty you're already paying for, add these costs into the comparison between plans.
Electronics warranty comparison
Between warranty programs options offered at checkout to third party providers, the choices on each can be hard to compare. The Mulberry browser extension allows you to get an immediate quote on your product protection plan so you can get the best deal.
We've done the work for you to show a breakdown of electronics warranty costs and coverage from main providers for four popular products on the market today. Here is an overview of what the coverage options are for earphones, a video game console, a TV, and a laptop.
Headphone/earbud warranty
Beats by Dre - Beats Studio Buds Wireless Noise Cancelling Earphones
Retail Value $129.99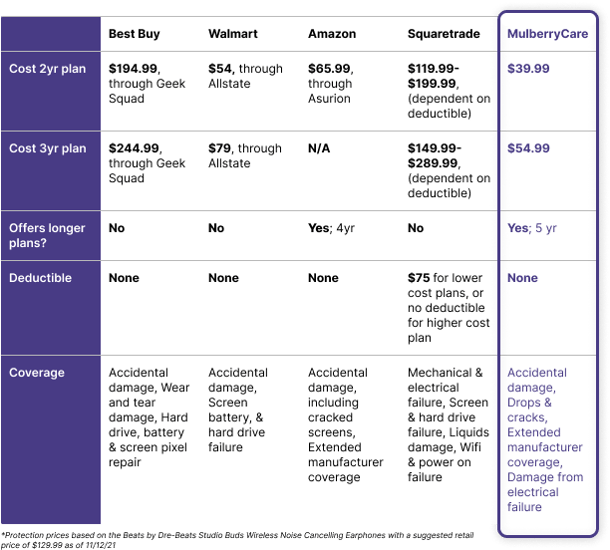 Video game console warranty
Nintendo Switch with Neon Blue and Neon Red Joy-Con
Retail value $299.99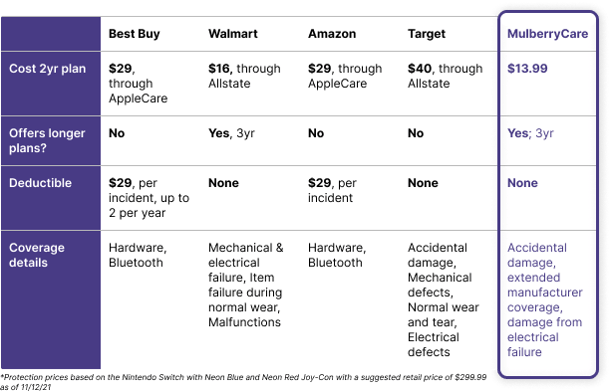 TV warranty
Samsung 65" Class AU8000 Crystal UHD Smart TV (2021)
Retail value $699.99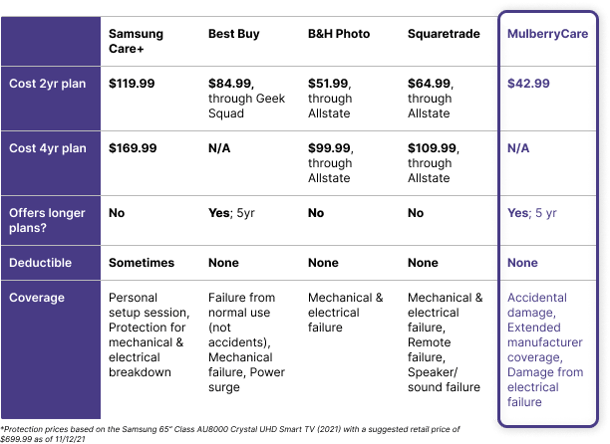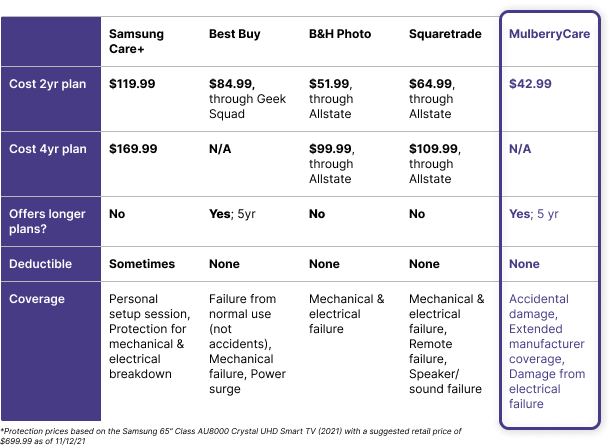 Laptop warranty
2021 Dell Inspiron 15.6" FHD Touchscreen Laptop
Retail value $599.99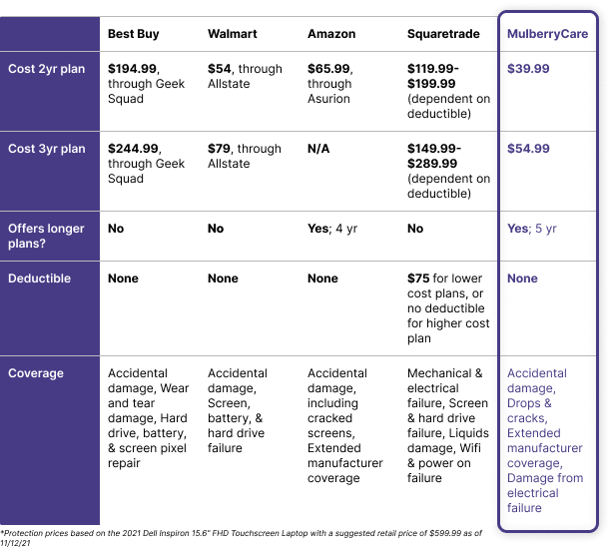 Get coverage from the best electronics warranty company
Extended warranties can be a big money and time saver when you have a break that compromises your tech. An extended warranty provides extended protection insurance that can give you peace of mind when you're purchasing electronics that you'll use regularly.
Shop with the Mulberry browser extension to view all the extended warranty plans available for your items in real time.