We're a fan of saving money, and we know our customers are too. That's why in 2021, we rolled out new initiatives to help online shoppers take advantage of great savings.
First, we started this blog to share deals and tips for saving money online.
And of course, we launched our Mulberry browser extension to offer coverage anywhere shoppers browse online.
After our extension launched in August 2021, it went to work fast—in the 5 months it was live last year, we helped a lot of customers save big and shop confidently with low-cost product protection.
With the start of a new year, we've loved looking back at some of the funny accident claims our customers shared with us in 2021. Now, we're digging into the numbers to see what our browser extension shoppers bought and how much they saved on product protection last year.
By the numbers: The Mulberry browser extension in 2021
Here are some of the insights we found going through our data from 2021.
The Hover-1 Blackhawk Electric Scooter—the product the most customers got covered with a plan
With LED headlights, a speed up to 15 MPH, and the distance for 28 miles, it's no wonder this was on so many shoppers' lists! At a price point of $599.00, this scooter is a purchase you want to keep using for years, which is why it's a great candidate for Mulberry coverage.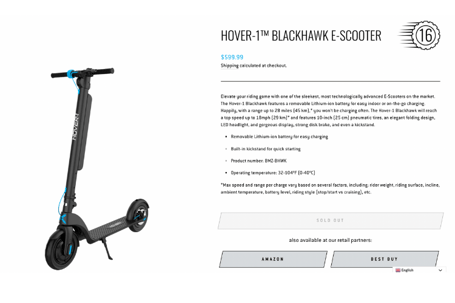 Consumer electronics plans—the most common category for protection plans
Computers, phones, and tablets are some of the most used (and most dropped) items we have, so it's no wonder electronics warranties are such a popular category. Product protection that covers accidental damage can be a lifesaver when it means you're not stuck with a shattered screen or other damage on your new iphone.
$10,000 donated to Americares
We got to team up with Americares last year as part of our #DoWhatMatters campaign to contribute to their work towards health-focused development and relief for people worldwide. Our campaign resulted in a $10,000 donation to help their cause. Thanks to all our customers who got protection plans through the browser extension to help donate to Americares!
91% customer claims satisfaction rating
At Mulberry, we're shoppers too, which means we've also had our share of negative and positive customer service experiences. Having a product problem is frustrating enough, and your claims experience shouldn't have to be. We think everyone should have an easy and quick claims resolution process, and our customers seem to like it too!
Here's to helping even more customers in 2022
2021 was a big year for customer savings, and in 2022 (with one month already behind us) we're excited to keep doing even more to help shoppers save money.
This year, we're going to continue to grow our browser extension with the launch of new features, constant app improvements for an even better user experience, and expanded coverage to offer protection on even more of the products you purchase.
And of course, we'll keep sharing our money-saving deals and tips for shoppers on this blog and on our social media channels. Follow us on Instagram and Facebook, and download the Mulberry browser extension to get the latest updates and deals to shop smart with us this year!