Extended warranties are meant to cover the unexpected accidents that come when you're living life, especially if you're living it with pets, kids, colored beverages, or other accident prone situations.
It happens too often: you shell out the money for a nice, new product, only to have life happen in the worst of ways, and cut your product life short. Think: broken phone screen after 6 months, anyone? Sad day for you, and your wallet.
Most products come with a manufacturer's warranty, but you have to choose to add an extended warranty on your purchase. Mulberry works with retailers to offer comprehensive, low-cost protection plans programs on their sites. If your company of choice doesn't offer warranty protection, or you want lower warranty costs from deals from Mulberry, you can add a plan with the Mulberry browser extension.
If you already bought an item but didn't get a warranty with your order, you're not out of luck. You have options to get product protection post purchase. Here's what that looks like.
Why get a plan post-purchase?
There are a lot of situations in which you might want to add a plan after you've already made your purchase. Here are a few examples:
You ordered a couch and forgot to add a

sofa warranty

on it when you checked out.
You bought a new rug and wanted to take some time to consider whether or not to get a plan, and how long of a term of coverage you need.
You received a new phone as a gift (lucky you!). You have a gift receipt for it and want to add your own

electronics extended warranty

on it.
You purchased jewelry for someone as a gift (lucky them!). You want to confirm they like it and it fits before getting them a jewelry protection plan on it.
You ordered several options for ski jackets online. You want to wait to try them on to know which one to keep before getting a plan on it.
How to get an extended warranty post-purchase
You can get a warranty post-purchase if:
It's a product that is eligible to be covered by warranty (yes to a glass jar, but not to the cookies inside it—sorry!)
You have a receipt for proof of purchase and to provide product and cost information
It's within 60 days of purchase
Shop with our partners: Many of our retail partners offer post-purchase plan options after you've ordered from them. If you're shopping at Mirror, Pier 1, or another partner of ours who offers Mulberry plans, you'll often get a chance to add a plan after you've submitted an order in your confirmation email. You can click through that email to add a plan easily onto your purchase so you can get protection from day 1.

Upgrade a current plan:

If you have already gotten a short-term plan through the extension and want to upgrade to longer coverage, then you have the option within that 50 day period in your Mulberry customer dashboard. Login to your Mulberry account, and go onto your customer dashboard to see your existing plans, and choose your upgrade option.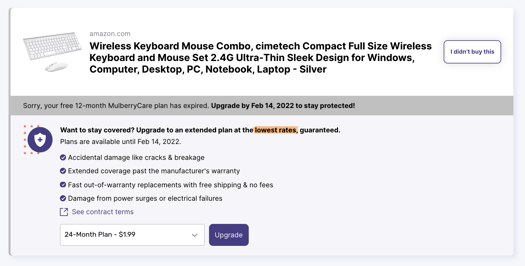 Get a new plan after a purchase

: If you have already bought a product and want to add a plan, the Mulberry on Demand feature is for you. You can use the browser extension to add Mulberry protection at any time. Simply open the form, enter basic product information, and get Mulberry product protection with a few clicks directly within the browser extension.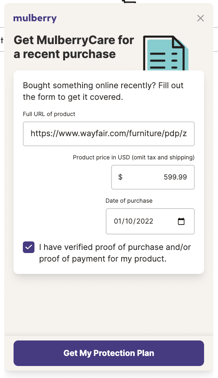 Input the purchase details to generate the plan options—you can copy and paste from the site you purchased from if easiest. When you select your plan option—whether a short-term plan or a low-cost longer term plan—you can include your date of purchase there as well.
What about gifts and returns?
Product didn't work out for you? No stress. You can cancel your MulberryCare protection plan within 30 days of buying a product for a 100% refund (minus any claims paid).
If you purchased a gift for someone with a warranty (very thoughtful!), you can change the plan holder to the gift recipient. On your Mulberry customer dashboard, you can view your plan and select the option to transfer it to a new primary plan holder.
For answers to more questions, go to our Mulberry Help Center.
With all of these questions, be sure to refer to your plan's specific terms & conditions for a full list of limits, obligations, and exclusions.