There are many things you can do to extend your phone life. An extended warranty can be key to get you needed repairs that can keep your phone lasting longer. But what does a phone warranty do, and is a phone warranty worth it?
Not all warranties are the same, so it's important to do your research to compare your options before picking an extended warranty provider. Here are answers to some of the most common questions about phone warranties to help you make a decision.
What is a phone warranty?
A phone manufacturer warranty comes free with a new phone. It promises that if there is a hardware or electrical failure that is due to a fault in manufacturing, the company will repair or replace your device.
If you buy a certified refurbished phone from a provider, they may offer a warranty on it as well, although these are often shorter in length.
A phone extended warranty, or product protection plan, is an option that you can purchase when you get your phone. It may extend the length of the manufacturer's warranty and/or cover additional issues like breaks or accidents within the extended warranty period. You can also add a warranty after your phone purchase.
How does a phone warranty work?
Imagine you have a phone with a 1-year manufacturer's warranty. If within that first year of owning the phone, it develops a fault due to a manufacturing error, you can file a claim. If the manufacturer determines that you are not to blame and haven't voided your warranty, you will get your claim approved. They may have you answer questions, fill out paperwork, mail the phone in or bring it in person, and pay a deductible or fees for repair services.
If you have a phone warranty through Mulberry, you can easily file your claim through your Mulberry dashboard by answering basic questions about how the accident occurred and attaching pictures of the damage. You will not need to pay any deductibles or fees for repairs.
How long does a phone warranty last?
The length of a phone manufacturer's warranty depends on the phone manufacturer or seller.
For example:
Apple iPhone warranties last 1 year
Samsung phone warranties last 2 years
Google Pixel phone warranties last 1 year
Refurbished certified phones from AT&T come with a 90-day warranty
An extended warranty for phones will last for the amount of time specified when you purchase the plan. Some companies may only offer one option for an extended warranty length, while others give you several plan length options.
Is my phone still under warranty?
You will need to check the details of your individual warranty agreement to know if your phone is still under warranty. There are some good ways to look for that information.
If you have a warranty through your phone provider or store you bought it at, look for product documentation from your time of purchase. The phone owner's manual will likely have the manufacturer warranty information. The purchase receipt or order confirmation email may have information about your extended warranty including the date it began, who the provider is, and how to file a claim.
If you have a phone extended warranty through Mulberry, go to your Mulberry customer dashboard or follow the link in your email after purchase to access your dashboard. You can log in at any time to see the coverage details and plan length for your specific policy.
What does a phone warranty cover?
The coverage details of your phone warranty depend on the type of warranty and terms of your contract. You can read our guide on what a warranty covers for more information on each warranty type.
Common defects that might be covered by a manufacturer warranty include:
The battery fails to hold a charge
The phone arrives with pixel damage or other damage to the screen
The screen turns green
The phone overheats and shuts off
Does a phone warranty cover accidental damage?
A standard phone manufacturer's warranty does not cover accidental damage. That means if you damage the phone yourself, any repair or replacement costs will not be paid for by a manufacturer's warranty.
A warranty also does not cover damage from unauthorized modifications. In other words, if you decide to crack open the phone yourself to fix or change something internally, it will void the manufacturer's warranty.
If you do want to protect your phone against breaks, drops, and damage, you will need to get a product protection plan or accident damage warranty plan on your phone.
Most common phone damages
There are many ways you can break your phone. Here are some of the top ways people damage their smartphones, according to frequency of google searches.
Water damage, resulting in waterlogged screen or damaged battery
Dropping or sitting on a phone, resulting in a cracked screen
Freezing or overheating due to extreme temperatures
Damaged phone speaker from moisture, dirt, or sand
Which phone warranty should I get?
Your phone warranty options will depend on what phone you buy. For example, Samsung Care+ is only available for Samsung phones, and AT&T warranty is only available for AT&T provider users. However, you do have multiple options with each type of phone purchase.
We did a full guide on finding the best electronics warranty with side-by-side comparisons for different warranty providers and different electronics.
Here are our findings when comparing the different extended warranty options when purchasing an iPhone 13 Pro 256 GB.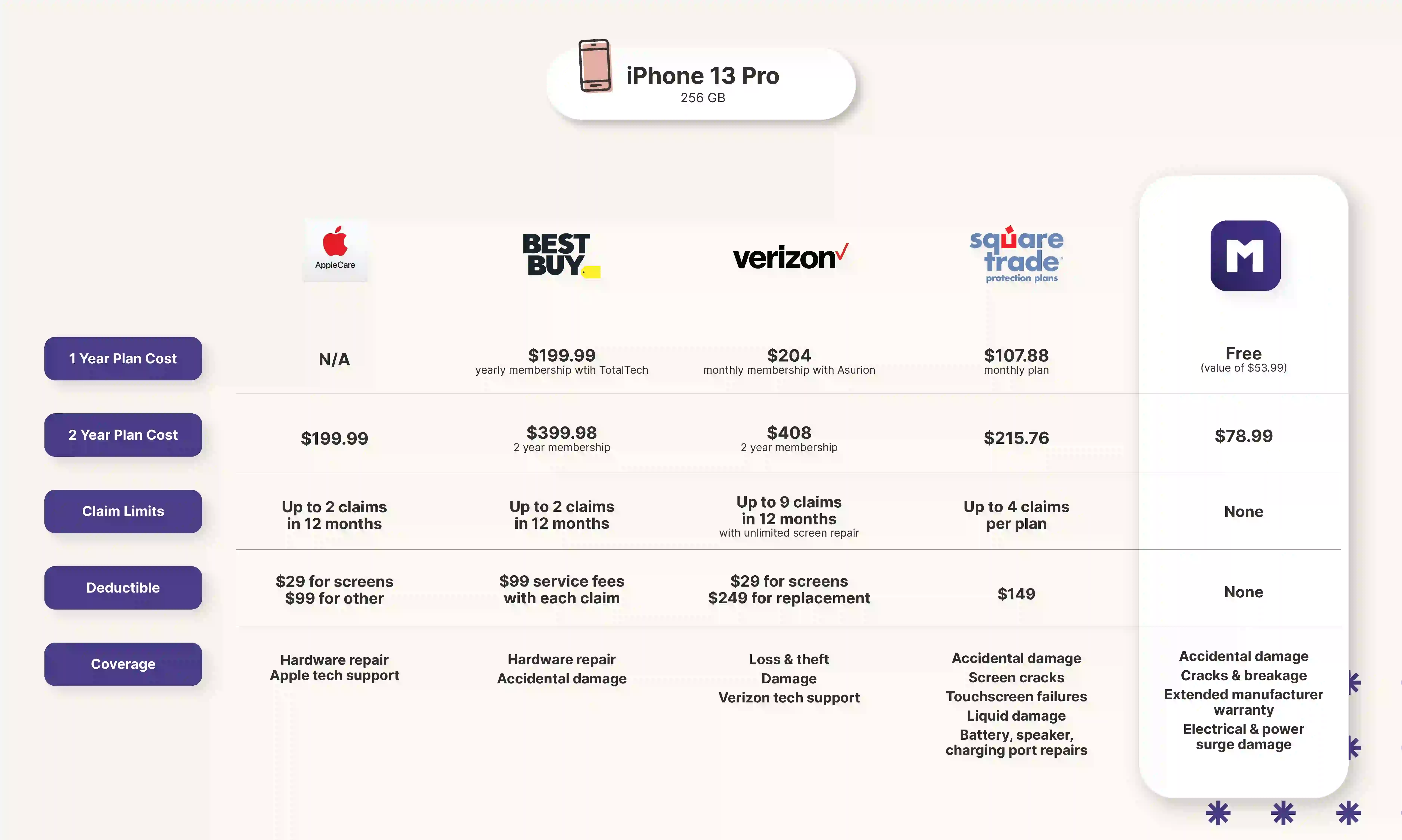 Here is where you can find more information on some of the most popular phone warranty plans:
Get the best phone extended warranty
To find a phone extended warranty that will cover you from breaks without breaking the bank, it's helpful to know your options. Comparing warranty providers and details can help you make an informed decision that will save you the stress of worrying about phone damage, help your phone last longer, and save you from costly repairs or replacements when filing a claim.